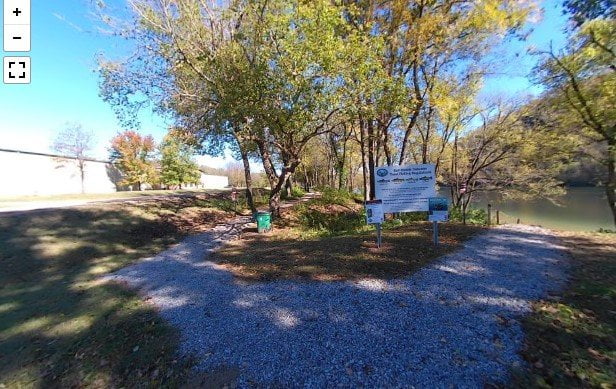 The roadside access to Roundhouse Shoals is on Highway 345 about a mile past the turnoff into the Big Springs Park in Cotter, AR. There are a couple of picnic tables with a stunning view of the White River.
The land was donated to the Arkansas Game & Fish Commission to improve access for anglers. There are stone steps from the parking area down to the river. There are also some trails made by others down to the river along the bank. The water level of the river will determine how far you are able to wade into the river.
Rainbow, brown, and cutthroat trout are all found along this area of the river. Be sure and get your Arkansas fishing license and trout permit before you go.
You can find out more about trout fishing in Cotter, AR in this article. There are plenty of guide services and fly shops in the area. Whether you are out to do some fly fishing, or you keep it simple by using corn or other bait, Cotter bills itself as the "Trout Fishing Capital of the World".
Be sure and check out our other articles for more access points along the White River. White River State Park, White Hole Access, Buffalo Shoals Access, Bronie Yurkonis Access, and Rim Shoals Access.
---
The camera we use for 360° photos. Click the photo to get yours today!
---
360 Photos of Roundhouse Shoals.
Use Your Mouse or Move Your Phone To Look Around.
---
---
On the map above click on "View Larger Map" to go to Google Maps. Then copy & paste the code below into Google Maps to view the location. Use the satellite view for the best overview.
Code
7F9C+5J Cotter, Arkansas
About Post Author