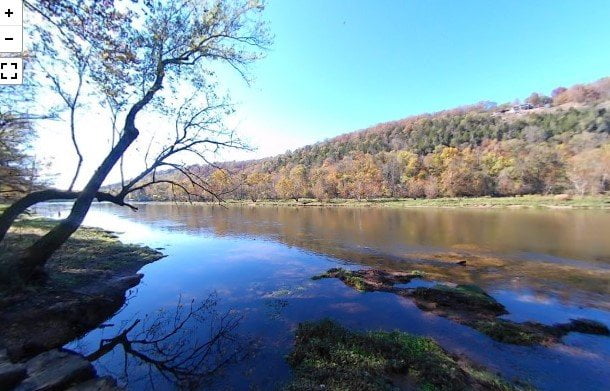 The Bronie Yurkonis Access is about 3 miles further down the highway from the Wildcat Shoals Access. That makes it about 9 miles from US Highway 62 in Cotter, AR.
Watch for the Arkansas Game & Fish Commission sign on the river side of the road. The Bronie Yurkonis area would be best for wade fishing at lower flows. Rainbow, brown, and cutthroat trout are all found along this stretch of the White River.
Be sure and get your Arkansas fishing license and trout permit online before your trip.
You can also check out our virtual visit to Cotter Big Springs Park for another great place to try your hand at catching some trout for dinner. There are a number of trout guides and fly fishing vendors in the area around Cotter. Since Cotter bills itself as the Trout Capital of the US, it seems fitting that fishermen wanting to catch a limit of trout should make this a destination to visit.
Be sure and check out our other articles for more access points along the White River. White River State Park, White Hole Access, Buffalo Shoals Access, Roundhouse Shoals, and Rim Shoals Access.
---
The camera we use for 360° photos. Click the photo to get yours today!
---
360 Photo of Bronie Yurkonis Access.
Use Your Mouse or Move Your Phone To Look Around.
---
On the map above click on "View Larger Map" to go to Google Maps. Then copy & paste the code below into Google Maps to view the location. Use the satellite view for the best overview.
Code
8CHP+P6 Bull Shoals, Arkansas
About Post Author