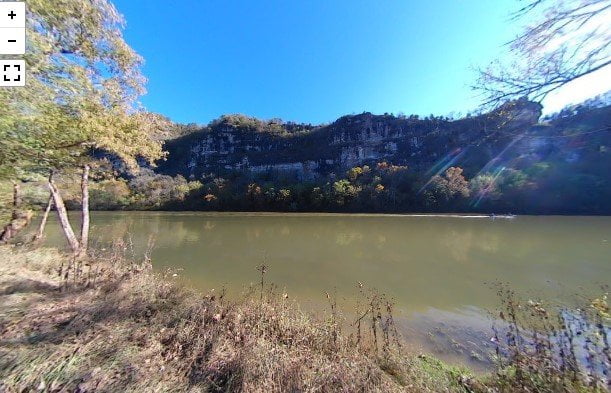 The Buffalo Shoals Access is located in Buffalo City, Arkansas. There is a boat ramp, large parking area, and bank or wade fishing. The White River at this location is about 32 miles downstream from Bull Shoals Dam.
A short distance below the boat launch is where the Buffalo River joins the White River. The warmer waters of the Buffalo mix with the colder waters of the White in this area. Besides trout, you may also catch smallmouth bass along the Buffalo River. You can check information on fishing in the area here.
You will want to check the river levels if you plan to wade fish. Note that it takes about 12 hours from the time water release volumes change at Bull Shoals Dam until the water reaches this point downstream. This is a truly natural area that borders the Buffalo River National Park and the Ozark National Forest.
Be sure and check out our other articles for more access points along the White River. White River State Park, White Hole Access, Bronie Yurkonis Access, Roundhouse Shoals, and Rim Shoals Access.
---
The camera we use for 360° photos. Click the photo to get yours today!
---
360 Photos of Buffalo Shoals Access.
Use Your Mouse or Move Your Phone To Look Around.
---
---
On the map above click on "View Larger Map" to go to Google Maps. Then copy & paste the code below into Google Maps to view the location. Use the satellite view for the best overview.
Code
5H75+VQ Mountain Home, Arkansas
About Post Author