The Upper Buffalo Wilderness area in Arkansas is a remote and untouched region that offers spectacular natural beauty for those who are willing to explore it. Among the many great areas in the Upper Buffalo Wilderness is Adkins Creek Canyon, which features a couple of stunning waterfalls. While this hike is not recommended for beginners, experienced hikers who are comfortable with bushwhacking will find plenty to see and explore.
If you are up for a challenging hike, the Upper Buffalo Wilderness area is an excellent choice. It's a beautiful and remote location that offers a unique hiking experience. Remember to be well-prepared and take all necessary precautions before embarking on this adventure.
Although most of the area can be covered in a single-day hike, we suggest taking your time to explore it over back-to-back weekends in winter or early spring when the water levels are high enough to enjoy the waterfalls. The trail is not marked, and there is no clear path to follow for most of the hike. The starting point is the Dahl Memorial Trailhead located in the Upper Buffalo Wilderness, accessible by taking Highway 16/21 East from Fallsville and turning LEFT onto Newton County 9100.
After traveling 2 miles on the gravel road (which is passable by most 2WD vehicles, except during bad weather), turn right onto a smaller road with a sign that points towards the Dahl Memorial Trailhead. A large campsite encircling a massive tree is located just a short distance down this road where you can park your vehicle. The Dahl Trailhead is named after Jerry Dahl, the Ozark-St Francis National Forest Supervisor from 1956-1962.
The trail begins to the east (right) side of the open area, and it starts off down an old jeep road, which is a pleasant hike. It passes an upland swamp before reaching an intersection. Stay STRAIGHT at this intersection so that you pass the swamp on your left. The road goes back up the hill and reaches a "T" intersection at 0.8 miles. Turn LEFT at this point, and the trail heads down the hill into a beautiful pine forest.
At 1.1 miles, the trail ends up at a small open field, which was probably formerly a food plot. From here, several redbud trees are visible during spring. At this point, you have a couple of options. For navigational purposes, the easiest and most scenic route is to head down the road for another 100 yards or so and then turn RIGHT into the woods. From there, head straight down the hill for a few hundred yards until you reach a small creek
Welcome to the beginning of what will soon become a challenging bushwhacking experience, as the forest is quite dense with undergrowth. The terrain is steep and will be tough to navigate from this point forward.
Once you arrive at the creek, take a left and follow the creek downstream toward the first waterfall. Although it may be quicker to hike along the ridge and make your way down diagonally, following the creek is safer and more scenic, with lovely cascades to admire.
Continue downstream, and cross the creek at a narrow spot where a red ribbon is tied. You'll encounter several more cascades along the way. As you approach the waterfall, you'll notice a spot where you'll need to hike up the hillside on the right.
If you followed the creek down, you should be around two miles from your starting point (although it's approximately 1.7 miles if you take the most direct but less scenic route). To access the bottom of the falls on the right (when facing downstream), make sure to take the safe route. Even though the log has been long gone, this area is still known as Leaning Log Falls.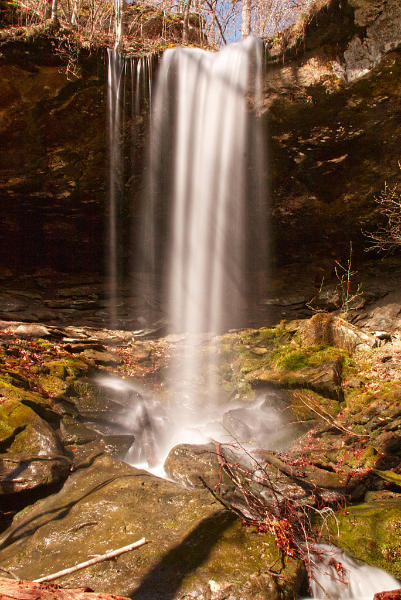 To continue on towards Adkins Creek and Adkins Canyon Falls, make your way down to Adkins Creek from here. The large creek, almost resembling a small river, is visible downstream from Leaning Log Falls. Look for a safe spot to climb down close to where you used to access the bottom of Leaning Log Falls. As with all wilderness situations, be cautious. Once you reach Adkins Creek, don't forget to explore the grotto below Leaning Log Falls; it's a breathtaking sight. To continue, you'll need to cross to the other side of Adkins Creek, which will likely result in a wet water crossing.
When venturing through water crossings in the Ozarks, exercise caution. If the bottom is not visible, it is not safe to cross. However, during our two excursions, the water level only reached mid-calf, enough to wet our feet but not enough to be dangerous. After crossing Adkins Creek, follow the stream downstream for about 0.3 miles. This creek is dotted with several breathtaking cascades and smaller waterfalls. While there is no set route to recommend, it is advisable to remain near the creek level, carefully picking your way along. You may end up getting your feet wet, but the steep and slippery ascent on the hill to the right can keep your feet dry but is not as enjoyable, in my opinion.
One of the highlights of this area is the stunning waterfall with 12 different pour-offs and deeply etched water paths. It is definitely worth exploring. At 0.3 miles past Leaning Log Falls, the creek passes by a lovely waterfall, and to the right, there is a creek that meets Adkins Creek. Here, there is a small but picturesque waterfall. Take a quick look, and you can spot Upper and Lower Adkins Canyon Falls up the canyon!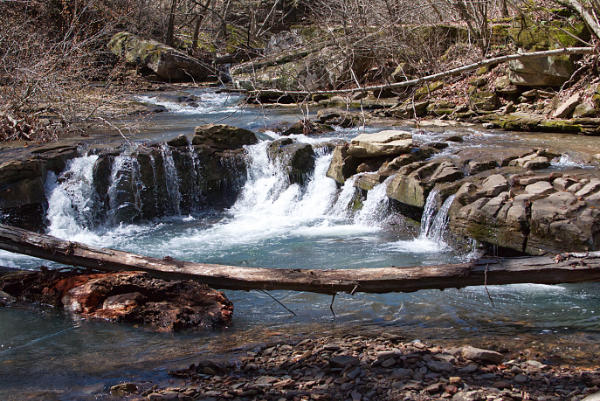 The main creek provides equally stunning scenery downstream from this point and is worth a look. Once you reach the small creek and waterfall on the right, follow it upstream for a few hundred yards to reach another smaller waterfall about 100 yards upstream in a deep canyon. This is lower Adkins Canyon Falls, where the larger falls can be seen. The canyon is beautiful in its own right and shouldn't be overlooked. The small waterfall flows into a deep blue pool, and from there, make your way up the hill around to the right to reach Upper Adkins Canyon Falls, a magnificent 42-foot waterfall that cascades down into a lovely pool. A huge rock overhang provides the perfect spot to relax and enjoy nature's beauty.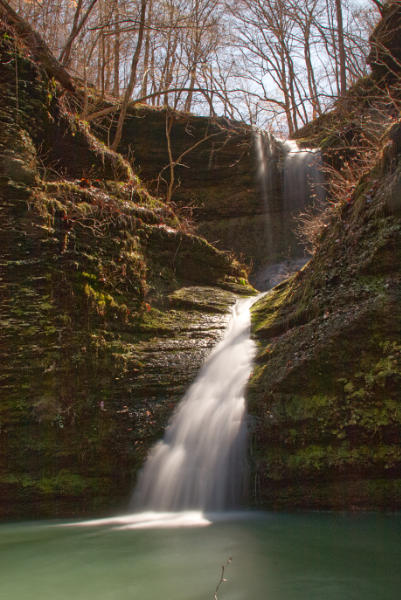 After exploring, retrace your steps back to your car, a nearly 1,000-foot climb from Adkins Creek. The dense underbrush and lack of a trail will make it a challenging return, but the stunning scenery witnessed along the way makes it all worth it.
Check out some other popular Ozark hiking trails.
---
Download The GPS Route File
GPX files are also known as GPS Exchange files. These are text files that contain route data that you can download to your computer and then upload to your phone or handheld GPS unit.
Adkins Creek GPX File Download – $1.99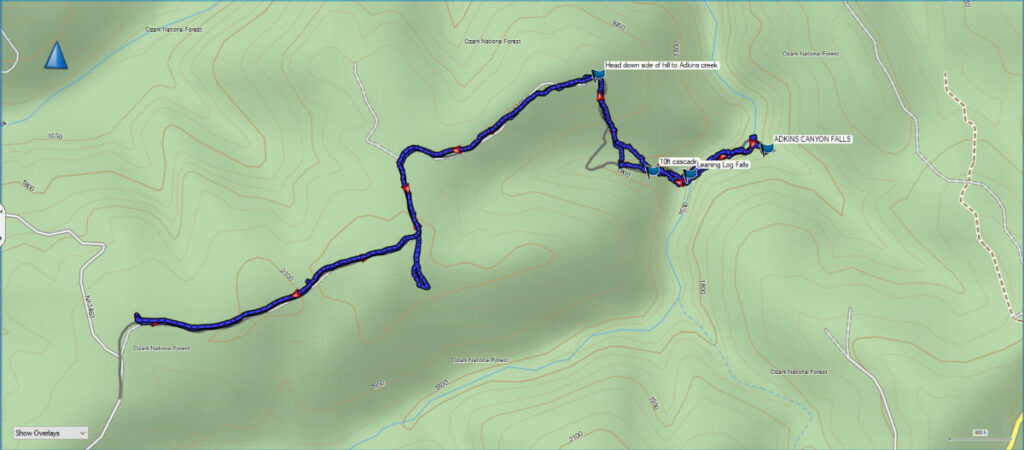 ---
Trail Details:
Distance: 5 miles round trip.
It's about 2 miles to Leaning Log Falls and an extra .5 to Adkins Canyon.

Difficulty: Difficult.
The first 1.1 miles is a pleasant hike, but the remaining distance is steep and rugged.
Kid Friendly: No
Footwear: Sturdy, waterproof hiking boots
Star Rating: 5 out of 5
Other trails nearby: Glory Hole, Magnolia Falls, Dismal Creek, Paradise Falls