Glory hole falls is a unique sinkhole waterfall in the Ozark National Forest. The parking area for the falls is along AR Highway 16/21 south of Boxley Valley. There is a small sign and a parking area beside the highway. Check out the map below to plan your route to the trailhead.
According to my GPS, the trail is 1.1 miles in each direction. The trail is mostly downhill to the falls, so this means the trail out is mostly uphill all the way. Although it is uphill hiking back out, it is about a 400′ elevation change over a mile, so I still rate this one as easy/moderate, depending on your physical condition. Check out the GPS map and elevation graph from the Garmin GPS.
---
Download The GPX File
GPX files are also known as GPS Exchange files. These are text files that contain route data that you can download to your computer and then upload to your phone or handheld GPS unit.
Glory Hole Falls GPX File Download – $1.99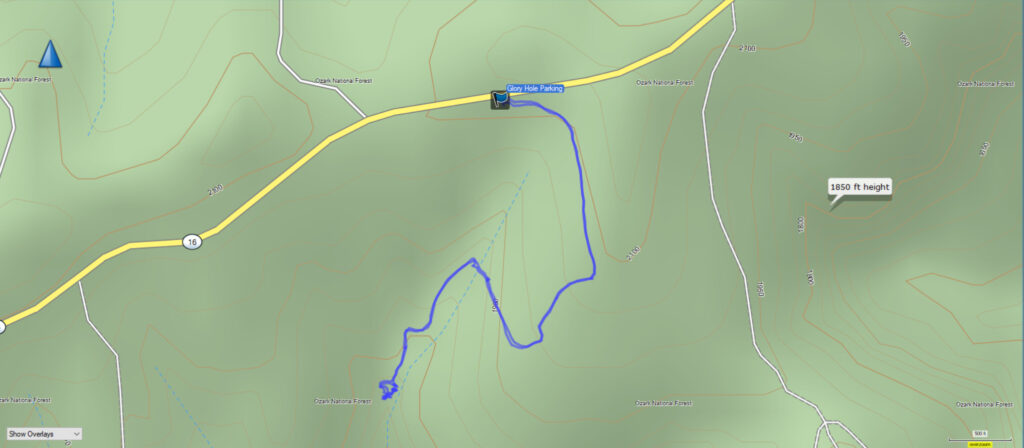 ---

As you can see from the elevation graph above, the distance we hiked was 2.2 miles, and the beginning elevation at the trailhead for Glory Hole Falls is about 2100 feet above sea level, and Glory Hole Falls is at about 1700′ elevation, for about 400′ of elevation change.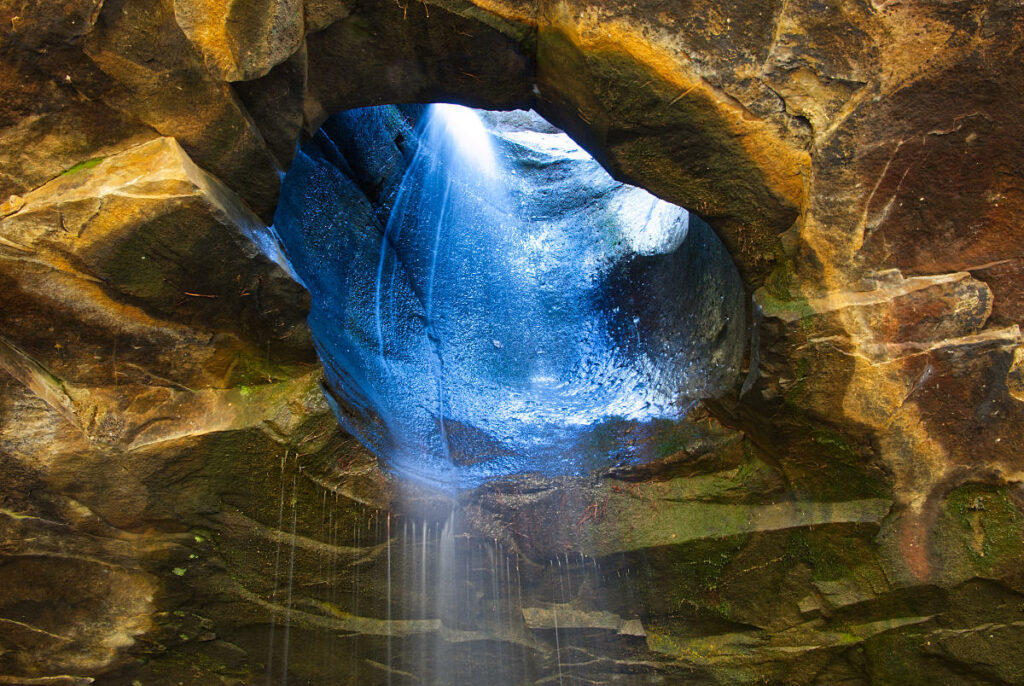 Glory Hole Falls is unique in that the drainage has worn a hole in the bedrock and the water now drains down through the hole instead of running over the rock ledge above the streambed below when there is low flow in the creek.
The hike to Glory Hole Falls begins down an old road. A short distance down the trail there is a fork, and there is now a flat rock with an arrow painted on it indicating to take the right fork in the trail. This can be a help to those who aren't as familiar with hiking this trail. The trail continues downhill and you will cross the creek that drains down and creates the falls.
---
The camera we use for 360° photos. Click the photo to get yours today!
---
Take the virtual tour below and see the trail and falls for yourself before you go. Click the icon to begin loading the tour.
Be sure and spend some time exploring around the falls and below the falls along the creek. The scenery is gorgeous, and there are plenty of sights to see in this rugged area of the Ozarks. Another waterfall not far from here is Paradise Falls, and the Smith Creek Conservation Area is only a short drive north of here toward Boxley Valley.