Are you ready to explore the stunning beauty of the Ozark National Forest's Leatherwood Wilderness? This hidden gem is a must-visit destination for anyone seeking an escape from the hustle and bustle of everyday life. With miles of hiking trails, crystal-clear streams, and breathtaking vistas, the Leatherwood Wilderness is a nature lover's paradise. Whether you're an experienced backpacker or a casual day hiker, there's something for everyone to enjoy. In this article, we'll take a closer look at the highlights of this stunning wilderness area and give you all the information you need to plan your own adventure. So what are you waiting for? Let's get started!
Leatherwood Wilderness Waterfall Hikes
Welcome to the untamed paradise of the Leatherwood Wilderness in the Ozark National Forest. This is where you can get lost in nature's wonderland, where time stands still, and the only sounds you hear are the rustling of leaves, the chirping of birds, and the babbling of streams.
The Leatherwood Wilderness is located in the Boston Mountains, part of the Ozark National Forest in Arkansas. It is a rugged and remote area, covering over 18,000 acres, and is home to some of the most pristine wilderness in the state. The Leatherwood Wilderness was designated a wilderness area in 1984, and its rugged terrain and remote location make it a popular destination for backpackers, hikers, and nature enthusiasts.
The Leatherwood Wilderness offers endless recreational opportunities for outdoor enthusiasts. Hiking and backpacking are the most popular activities in the area, with miles of trails to explore.
China and Cougar Falls
We begin our waterfall hiking adventure on a loop trail that allows you to visit two waterfalls. You can park along County Road 146 to start your hike to see these waterfalls. Since this is a loop trail you can begin the hike from either direction. The trail is a little over a mile in total distance. This is a rugged area with high bluffs so there is definitely some hiking up and down some steep areas. Be sure you are prepared and in shape to make these hikes, as cell phone service is very spotty, and rescue could be hours away.
On this trip, there was very little water running over either of these waterfalls. For this reason, I recommend visiting them right after a substantial rain in the area. We visited only a few days after substantial rains and the waterfalls were already down to a trickle.
If you want to explore these waterfalls you can download the GPS Route file below. You also get the GPS track for Funnel Falls and Little Glory Hole Falls in the same download. More information on those waterfalls is below.
---
Download The GPS Route File
GPX files are also known as GPS Exchange files. These are text files that contain route data that you can download to your computer and then upload to your phone or handheld GPS unit.
Leatherwood Wilderness GPX File Download – $1.99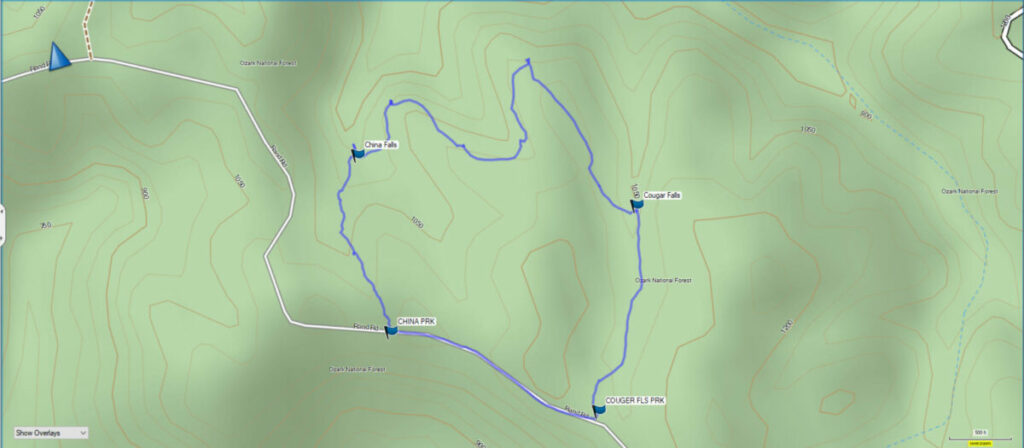 Funnel Falls – Leatherwood Wilderness
After the hike to the waterfalls above we headed about 5 miles further up the road to the trail for Funnel Falls. Park on the West side of the road and then begin your hike across the road where there is an orange trail marker ribbon. Shortly you will join up and follow a horse trail along the ridge until you see a marker indicating where you should begin the trek downhill to the falls.
The trek here becomes steep and challenging. It becomes even more steep and challenging once you reach the spot to trek down below the falls. To see just how steep be sure and watch our video at the top of the page.
There was more water running here so I was able to get a good photo of Funnel Falls.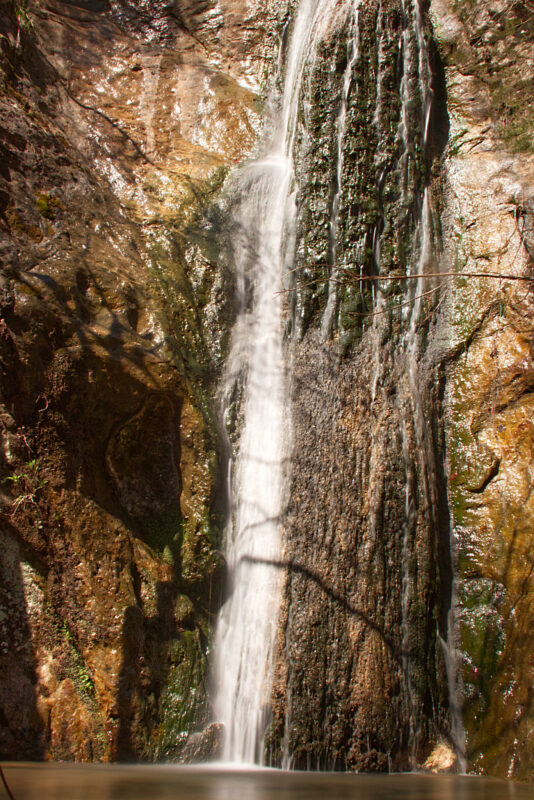 Little Glory Hole Falls is the other waterfall here, so be sure and get some photos of it too while you are here. The photo below is of our group beside Little Glory Hole Falls.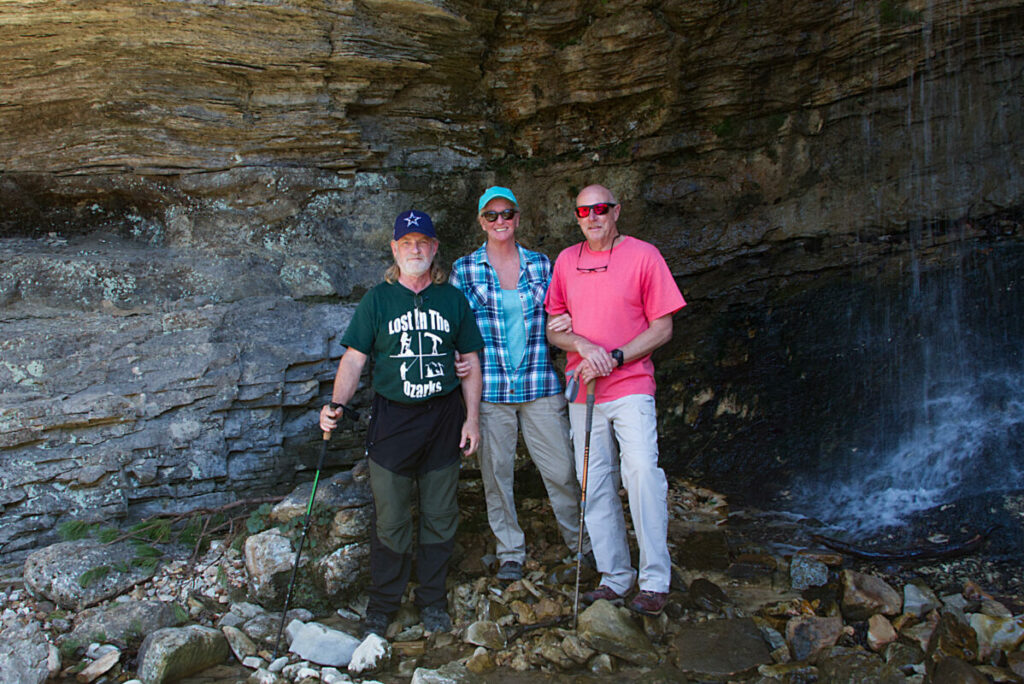 You can get the GPS track for these waterfalls in the GPS Route file download above. So you get two tracks with 4 waterfalls for one price. Now that's a bargain! Download them today, and plan your adventure into this beautiful and rugged wilderness area.