Bull Shoals Fishing In The Summer Heat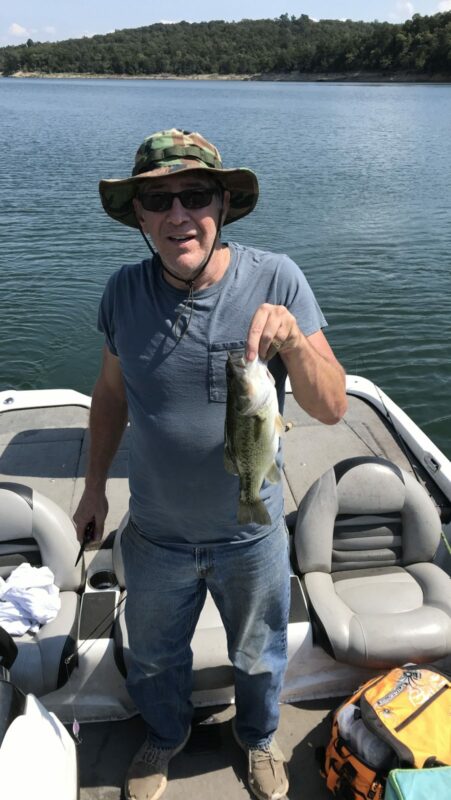 As summer heat lingers on in the Ozarks it makes it harder and harder to wait for cooler weather to get out and do some Bull Shoals fishing. Sometimes you have to just bite the bullet and get out on the water. One thing is certain in that you sure won't catch a thing sitting home under the air conditioner.
With this in mind, we set out at 9:00 this morning to see if we could beat a forecast front and also beat the heat and catch a few fish. We headed over to Tucker Hollow campground to use the concrete ramp there since the gravel one down the road here is still a little underwater. The water needs to come down a little more before we can safely use that one without fear of possibly getting stuck. The lake remains a little over 15 feet above full pool.
We launched the boat and I headed across the lake to the bluff bank on the north side that was still partially in the shade. Bull Shoals fishing can be tough on bright days so finding the shade is one strategy to employ to catch fish.
Bill started out using a Kastmaster spoon and I opted for a soft body spinnerbait that was white with a pink head. It wasn't long before Bill got a hit on the silver Kastmaster spoon. The first fish of the day was in the boat and things were looking promising.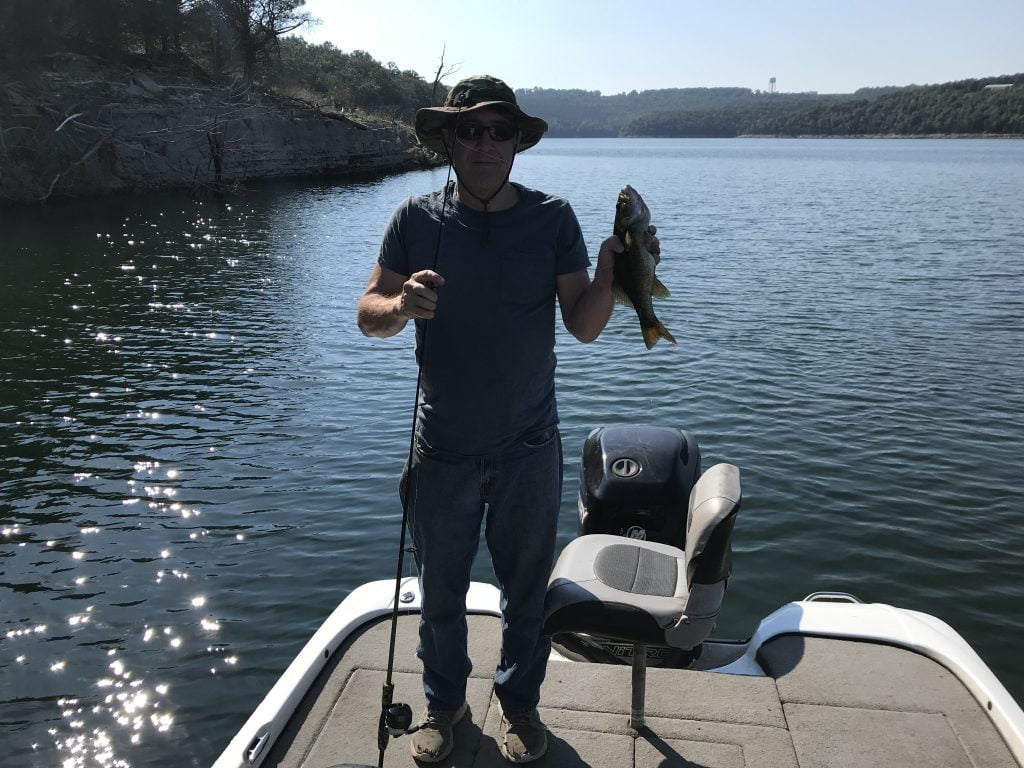 A few minutes later along the same bank, I heard Bill call out "Fish on" for the second time. This was another nice bass on the spoon. Being stubborn I stayed with my soft body spinnerbait and was determined to boat one with it. But the fishing spirits had other plans.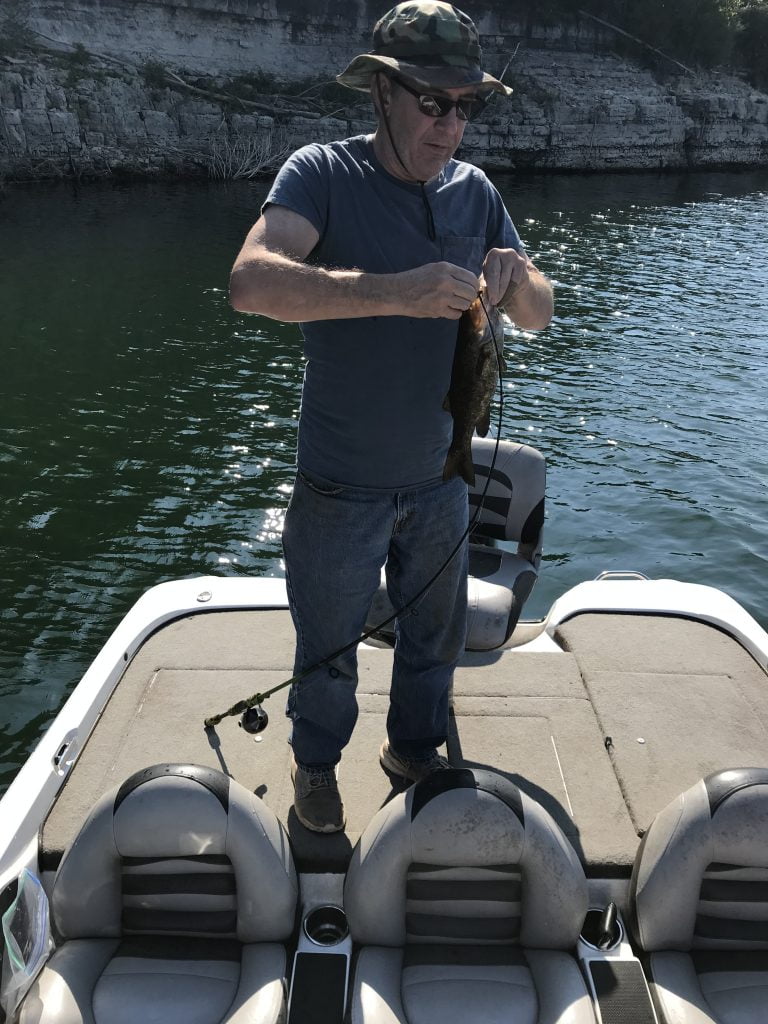 It was at this point though that things slowed down significantly. We cast at that bank for another 30 minutes or so and then decided it was time to move on.
We motored up the lake a little further and turned toward Bear Creek to try out a spot I had been wanting to try for a while. This is when the trip got a little interesting. I looked back and noticed that there was no water coming from the discharge from the engine cooling hose. I shut the boat down and went to work diagnosing the problem. It wasn't long before I found that a dirt dauber had stopped it up. Using a few tools I carry I was able to get it unstopped so we could continue the trip.
Unfortunately for me, I had laid my Ray-Ban glasses on the deck to work on the motor. When putting away the tools I must have knocked them overboard because I couldn't find them anywhere. Now that is depressing, but it happens so there is nothing to be gained from crying over spilled milk, or in this case, sunken sunglasses.
I started the motor back up and the cooling water was running again, so back to fishing.
We started out along the bank where there was still some shade in the water. We worked this bank for a while and didn't have any luck. We decided to work around a small island and see if there were any fish over there. Bill was able to pull out one more bass over close to the island.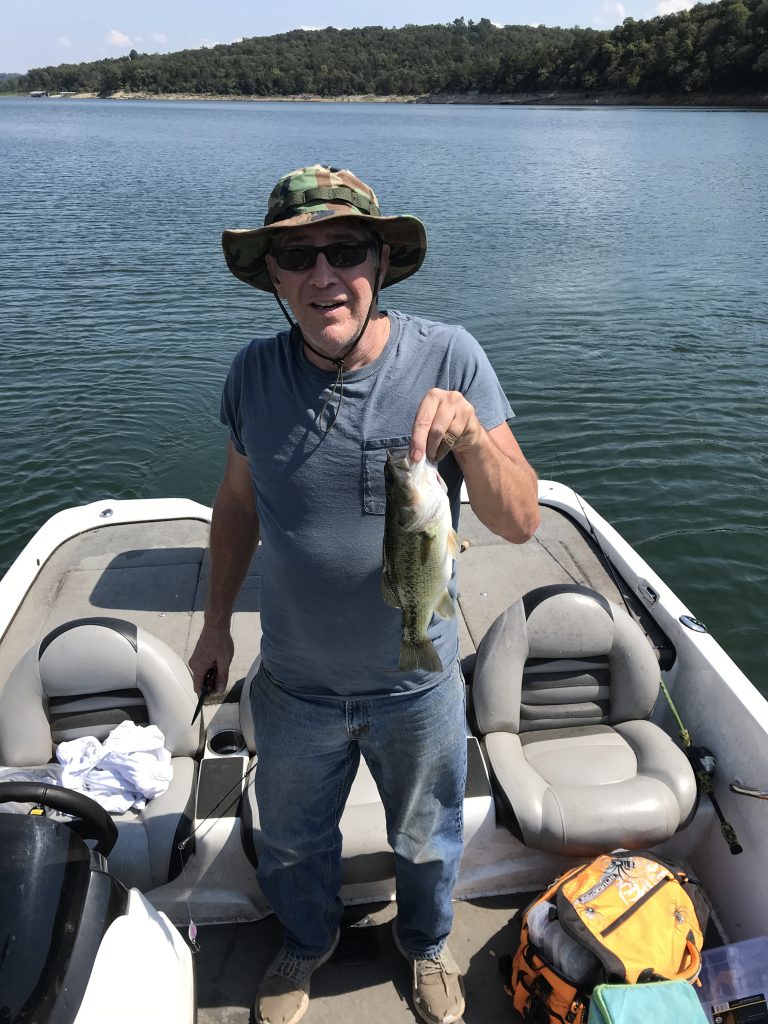 We had seen fish hitting the top, so I broke out the Whopper Plopper lure. Normally I wouldn't be tempted to use a topwater bait so late in the morning, but there were a lot of fish breaking the surface feeding in baitfish. I decided since I hadn't even boated a fish, yet I couldn't possibly do any worse. But the topwater bait didn't produce, so I broke out a deep-diving crankbait in white to see if maybe I could break my jinx.
That lure finally produced a fish for me. Unfortunately, that was the only one.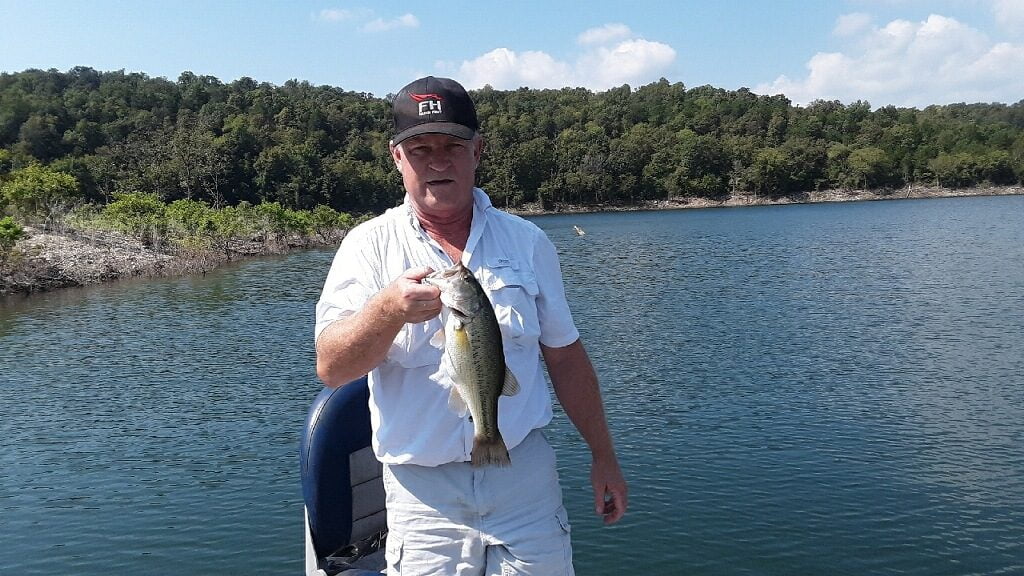 After fishing the island for a while it was getting hot at around 91 degrees. We decided to call it a day and maybe wait for this heat to break. Bull Shoals fishing can be difficult when the heat and bright sun drives the fish deep. But a bad day on the water still beats a good day at work any time.
If you want to learn more about Bull Shoals Lake be sure and read my article about the lake. If you want to keep up with the latest things we are doing be sure to follow us on Facebook and YouTube.
About Post Author