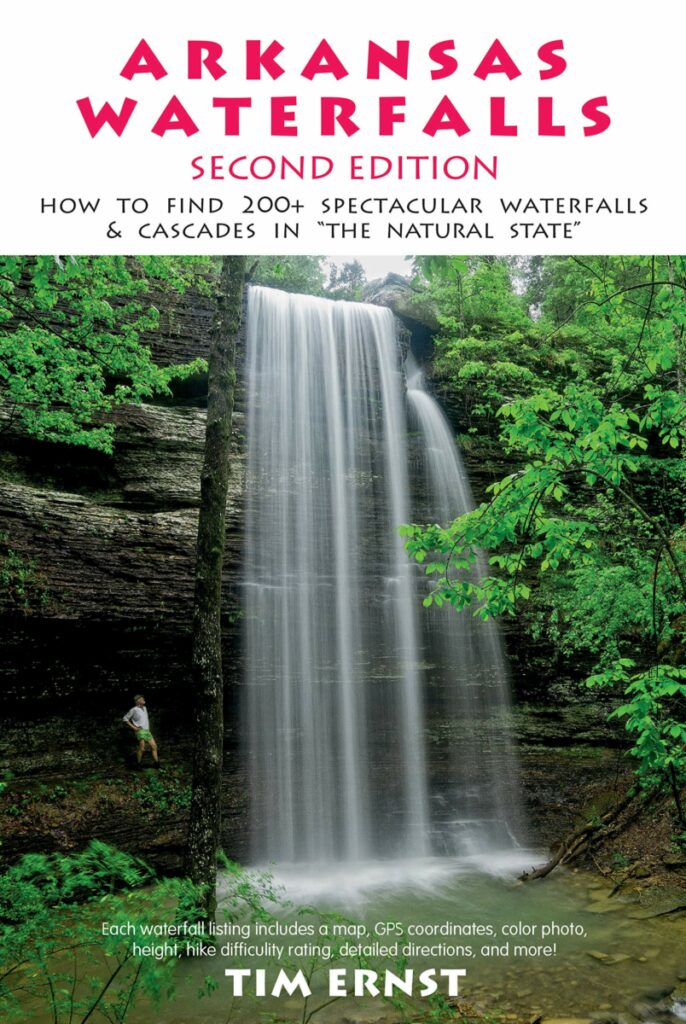 This review looks at the Arkansas Waterfalls Guidebook by Tim Ernst. If you are looking for a guide to a vast number of waterfalls in the Natural State this book is an indispensable tool. The book contains reams of information on waterfalls from those you can view from your car to tough bushwhack hikes that take you far from well-traveled roads. This book contains something for every waterfall enthusiast.
The Author
Tim Ernst is the author of the Arkansas Waterfalls Guidebook. Tim is a legend in the areas of outdoor photography and conservation. He has lived in and explored the Ozarks for many years, and has received numerous awards for his photography and wilderness conservation efforts. His nature photography has been published in many popular magazines over the years. He has also won numerous awards for his volunteer service to numerous conservation efforts. If you would like to read more about the author I have included a link to his bio here.
The Arkansas Waterfalls Guidebook is currently in its second edition. The first edition contained information on 133 spectacular waterfalls in Arkansas. The second edition adds 74 waterfalls to the list, which now contains over 200 waterfalls in the Natural State.
This book is much more than a collection of waterfall photos. The book lists each waterfall by region and alphabetical order. This makes finding the waterfall you are searching for in the book very easy. The listings for each waterfall include maps and GPS coordinates for parking areas, relevant turns or other features on the trails, and the location of the falls.
In addition to GPS coordinates, the listings include maps with many including turn-by-turn instructions to help your navigation to the parking areas and trailheads. The instructions include odometer readings between road turns to give you additional help to find the parking areas. This is invaluable when you realize that many of these waterfalls are in wilderness areas located off forest roads in the Buffalo River National Park and the Ozark National Forest. These roads can be very rough in the rocky countryside of the Ozarks. Many of the roads are only marked with Forest Service signs denoting the road number; for example FS 1430. These signs can be confusing for those unfamiliar with being in the wilderness so the maps and GPS coordinates are a welcome addition to help you find your destination.
My Review of the Arkansas Waterfalls Guidebook
I rate this book highly because we have used the Arkansas Waterfalls Guidebook for several years to help guide us to the waterfalls you see us posting on this site. The book is well written with detailed tips, GPS coordinates, maps, and directions to get you to some amazing waterfalls in Arkansas.
This book has become an invaluable tool when we are doing research and planning hikes to new waterfall destinations. It's no secret that we love chasing waterfalls and this book is with us on every hike into the backcountry chasing these amazing sights.
The book also has information on the best times to view these waterfalls, which is something many people don't understand. Most waterfalls in Arkansas are not fed by springs with constant water flow. This makes it important to know not just where the waterfalls are located but also the weather in the area. Spring and Fall are the optimum times to chase waterfalls in Arkansas, due to the chances for more substantial rainfall in those seasons. Visiting these waterfalls within a few days of substantial rainfall will greatly enhance the beauty of these natural wonders.
Precautions
This book also includes precautionary statements about things you should know before you head out into the wilderness in search of some of these waterfalls. Although a number of these waterfalls can be reached and viewed from the roadside or after a minimal hike, others are nestled miles from roads and civilization. Being prepared will keep you safe and prevent you from becoming another wilderness rescue, or potentially worse.
Many of the waterfalls listed, especially the most spectacular, are located in areas with high bluffs that can be dangerous if not treated with respect. Areas around the falls become slick with moisture on the rocks and footing can be treacherous. This is not meant to discourage anyone from visiting these falls. It is meant to stress that a healthy dose of preparation and caution is advised when in these areas.
For example, Hemmed In Hollow Falls is the tallest waterfall between the Rocky and Appalachian mountain ranges of the US. It is 209 feet tall and the water rushes over a bluff and falls upon the rocks below. It is a stunning experience to stand below the falls and see them for yourself. Many people can't resist the temptation to see this amazing waterfall. The trail to the falls is a little over 2.5 miles each way with a little over 1200′ of elevation change. The trail is steep and slick in spots so good shoes, suitable clothing, and plenty of water to stay hydrated are essential, especially in warmer weather.
Conclusion
My rating for this book comes from several years of using the book in chasing the many waterfalls you may have seen posted on our site. I rate this book are a must-have tool for anyone who loves chasing waterfalls in Arkansas. If you love nature and hiking this is a must-have tool in your backpack to find and experience the grandeur and beauty of the wilderness in the beautiful Arkansas Ozarks.
You can get your copy of the Arkansas Waterfalls Guidebook here.
You may also want to watch our video below.