These 7 top tips for hiking can help make your trip into the wilderness both enjoyable and safe. Heading into the wild on a hiking trip can be exhilarating. Getting out and experiencing nature and all the sights and sounds that go with it can be food for your soul. Setting out on a hike to a new destination can be both exciting, and a little scary at the same time.
If you want your hike to be safe and successful there are things you need to do to make sure you return home with memories and not injuries, or worse. Preparing for your hike, and anticipating the unexpected, can not only affect your satisfaction with the hike, but it can also be the difference between making it home safe or not. Remember, just because it's a well-worn trail doesn't mean there will be help readily available should the unthinkable happen.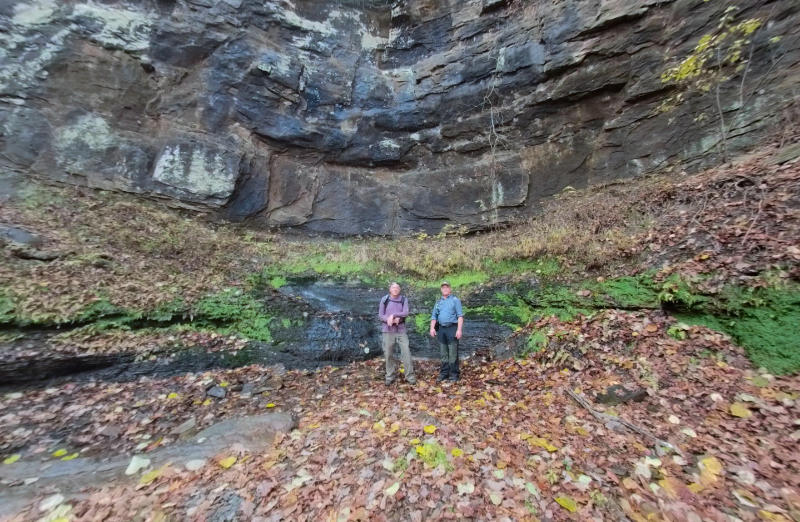 Preparation and safety are the keys to an enjoyable outing in the wilderness. With this in mind, we have put together this list of tips to help you have a great hike, and make some great memories on the trail.
Top Tips for Hiking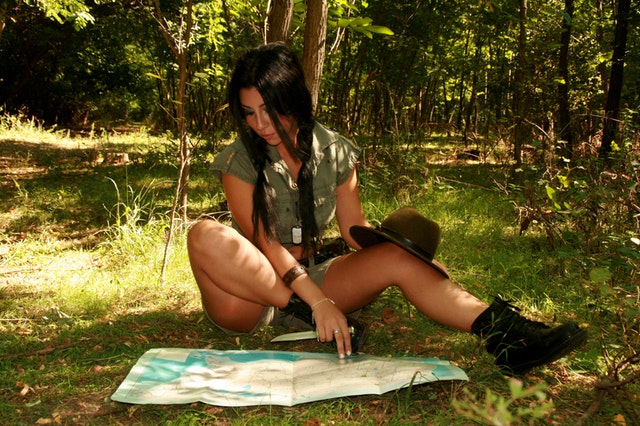 1-Have A Plan
Any hike should begin at home with planning. Besides knowing the trail you intend to hike you should also either download a map to your phone or GPS device or carry a paper map. Many places we hike in the Ozarks have spotty cell reception at best. Usually, there is none at all. Calling for help may not be an option if you get injured or lost. So how do you make sure you make it back safely?
There are places online where you can download maps for offline use with your phone or handheld GPS receiver. Google maps is a great place to download maps of the area you plan to hike. You can send the directions to your phone so you can use them even with no cell service. There are a number of places online to download .gpx files. GPX files are text files that show a route from a GPS device that you can load into your own device. Many of the articles we write about our hikes now include the downloadable GPX file. The files are free to download, but if you find them useful we have a donation button that you can use. The donations help us get out and visit more areas and create more GPS routes you can download.
Paper maps are also an option. You can print a paper map and place it inside a plastic ziplock type bag to waterproof it. It is a good idea to have a good old-fashioned magnetic compass as a backup in case your GPS or phone batteries die. Electronics are great until they don't work. Both of these are great to have along should something happen to your electronics.
It is also a good idea to tell someone where you will be hiking and when you expect to be home. That way, if you fail to show up, at least you can be assured someone will be searching for you if you have a problem. Every year I see numerous reports of wilderness rescues happening in our area of the Ozarks. Broken bones, medical emergencies, and other issues happen. If you let someone know where you are, and something happens, the wait for rescue will be a lot less stressful than if no one even knows where you are.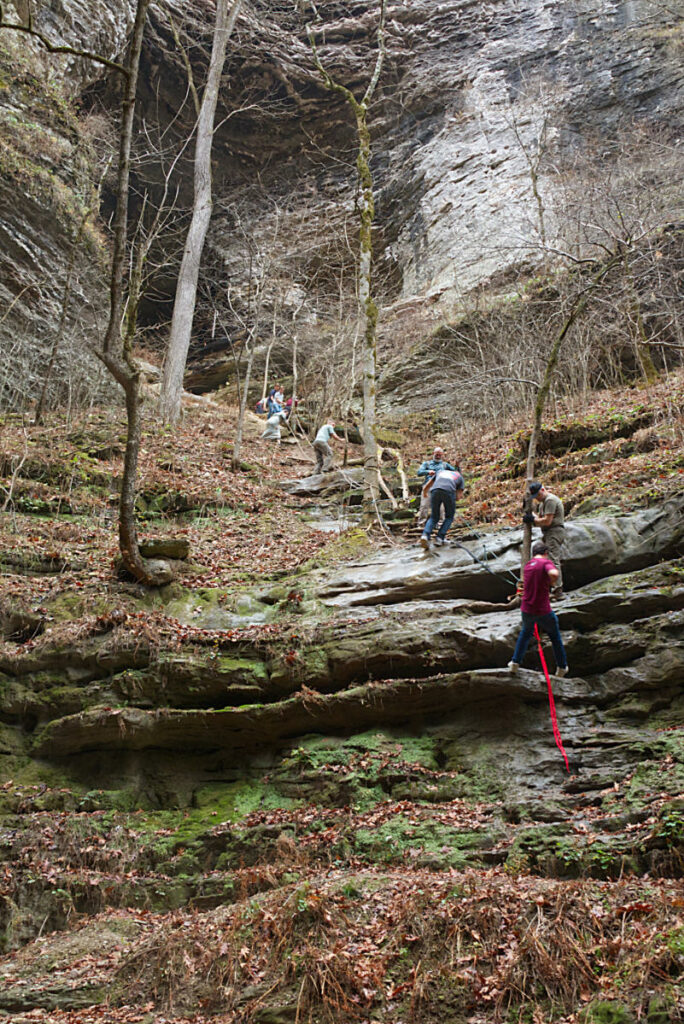 2-Know Your Limitations
I was on a group hike recently on the Indian Creek Trail and we reached a spot where you have to use ropes to ascend. I really wanted to see what was up there, but I had injured my knee a few days before. As the hike went on I felt pain anytime I stepped on a rock awkwardly or twisted to step over an obstacle. Despite my overwhelming urge to continue the climb, I made the right decision to stay below the ropes and wait for the group to return. I knew that one slip on the ascent, and it would be me who would need a wilderness rescue. By knowing my limitations on that hike, I made it back safely and was able to do another strenuous hike within a week.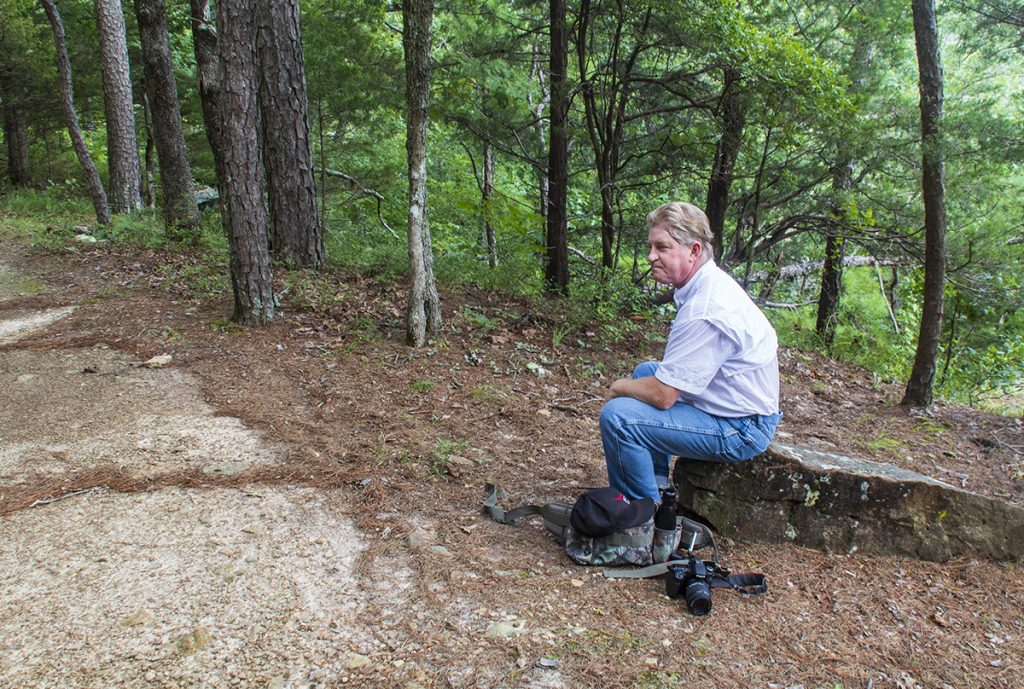 3-Stay Hydrated
We generally need to plan for at least a quart of fluids for every hour of moderate physical activity. If you are planning a longer hike, or in warmer temperatures, you will need even more to replace the fluids you lose through sweating. You also need to replace the electrolytes you lose. You can carry sports drinks, or add electrolyte powder to water. You'll need to plan for the added weight too. Remember, water weighs about 8 lbs per gallon.
One of my tips for hiking is to always carry an emergency water filter in my backpack. I learned this tip on a hike to Hemmed In Hollow Falls. The hike down to the falls is about 2.5 miles with an elevation change of around 1200′. We got to the falls and a couple of young guys showed up. They didn't have any water with them at all, and they ended up drinking from a spring out of the hillside. Not the best option, but the only option available to them. A better option would have been to have an emergency filter to prevent serious gastrointestinal illness. Better safe than sick!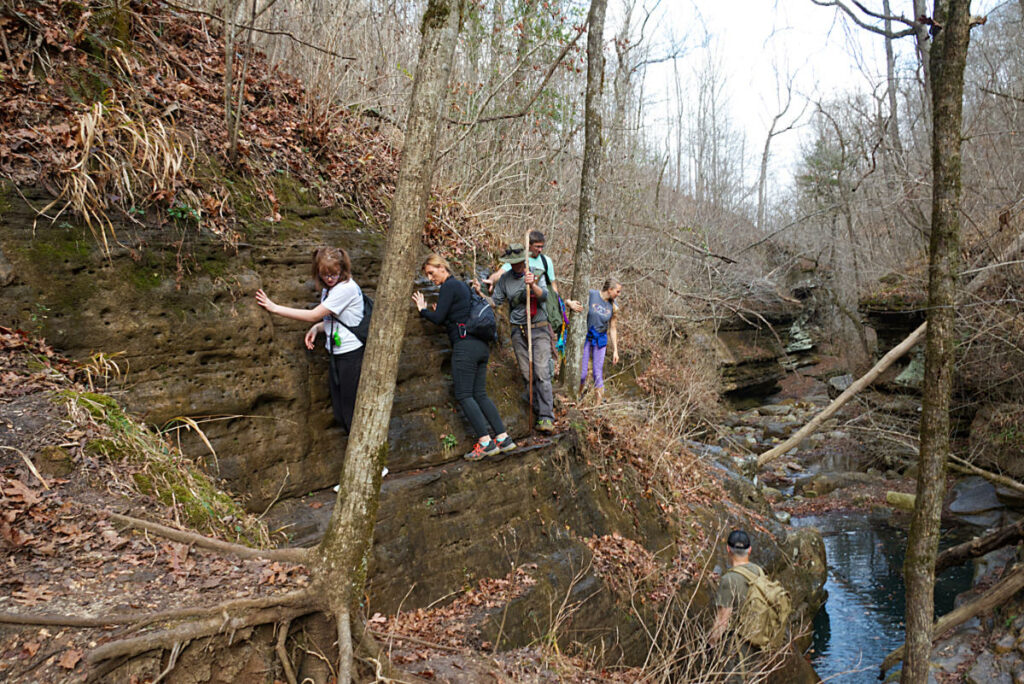 4-Footwear is Important
One of the top tips for hiking is to make sure you have the right footwear. You will be using your feet the entire time you are hiking, so you want sturdy footwear. Short hikes can be made wearing sneakers, or hiking shoes. Most people opt for boots with high tops for longer hikes, or hikes over rugged terrain. High-top boots have the added advantage of giving additional ankle support when climbing or walking on even surfaces.
Don't forget the socks. Experienced hikers use thick socks to prevent blisters. They also opt for socks made of materials like synthetics, or natural wool, that can wick away sweat and help keep your feet dry and comfortable.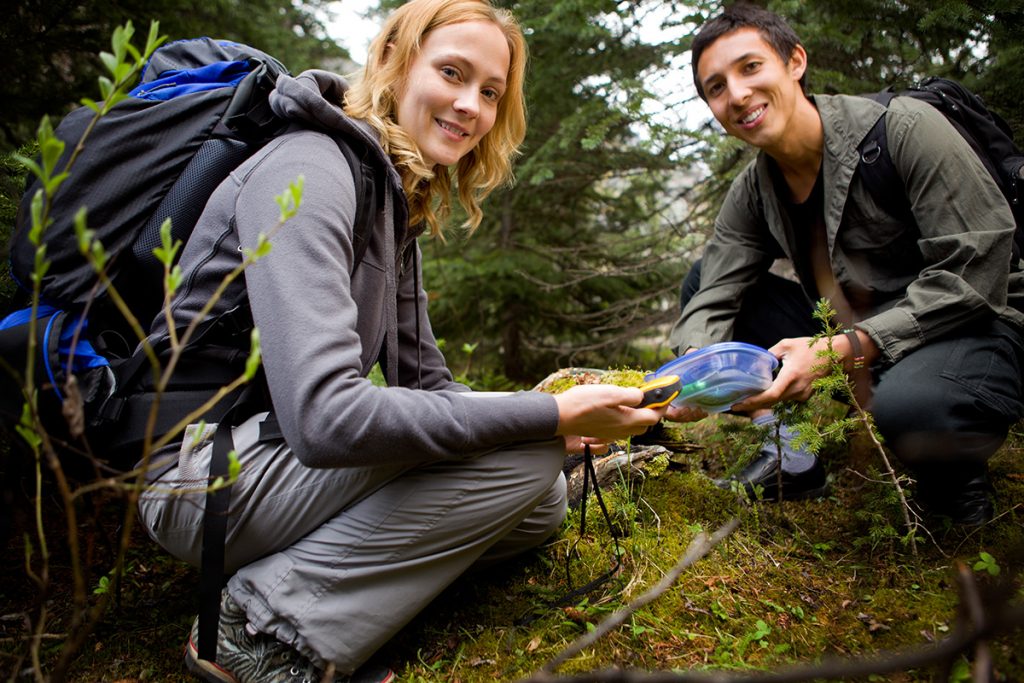 5-Bring Along Some Calories
Another of the great tips for hiking I learned from experience is that hiking burns a lot of calories. Especially here in the higher elevations of the Ozarks. You can easily burn 3-4000 calories a day. Be sure and bring some snacks that pack a lot of calories. Things such as nuts, dried fruits, etc. are calorie dense and are relatively light to carry. Believe me, that is a consideration as you are hiking back out of some of the valleys in the Ozarks.
Another benefit of bringing snacks along is that it will remind you to take a break and just enjoy the scene in front of you. Taking the time to truly appreciate the amazing beauty to be found in nature is really why you are out there in the first place. So take some time to just be there!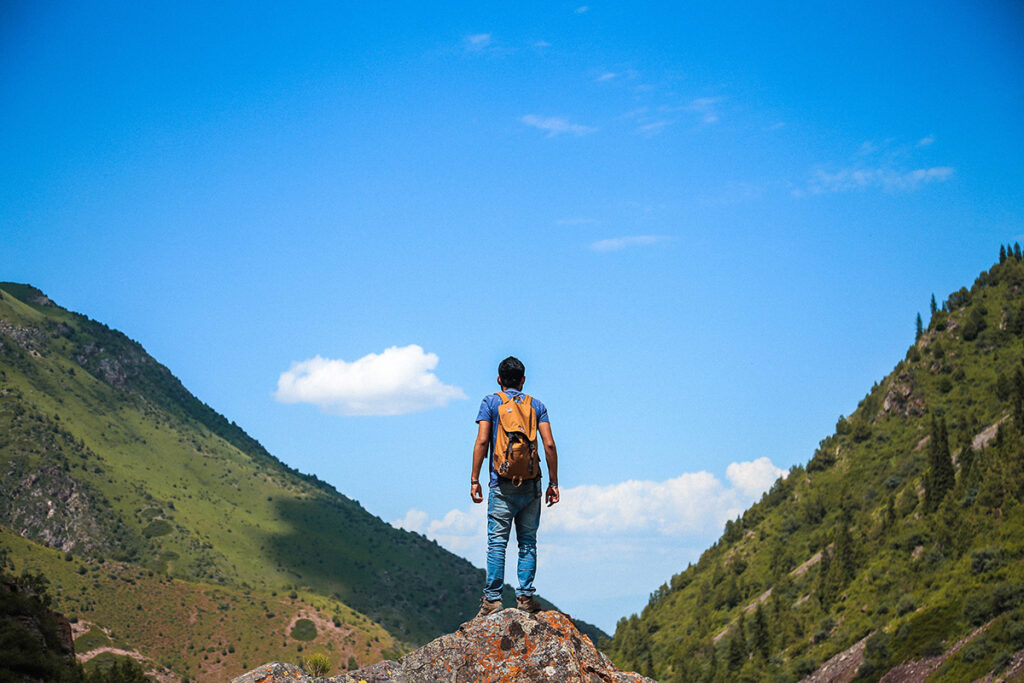 6-Be Considerate
Since we just talked about bringing snacks it's a great time to remind you to be sure and pack out your trash. That includes things like banana peels and apples. Even though you might think they are natural, so what? These things do take a while to degrade, and they are unsightly as they do. Please don't throw them along trails. In bear country, they can also attract bears.
You may meet someone on narrow trails. The proper etiquette is that hikers going downhill yield to those heading uphill, so the uphill hikers don't have to break their stride. You should always remain aware of things around you, and yield to faster hikers.
You probably know to yield to a 1200 lb animal, but horses do have the right of way. It's also good to note that you should stay on the downhill side of horses as they pass if possible since they generally bolt uphill if they get spooked.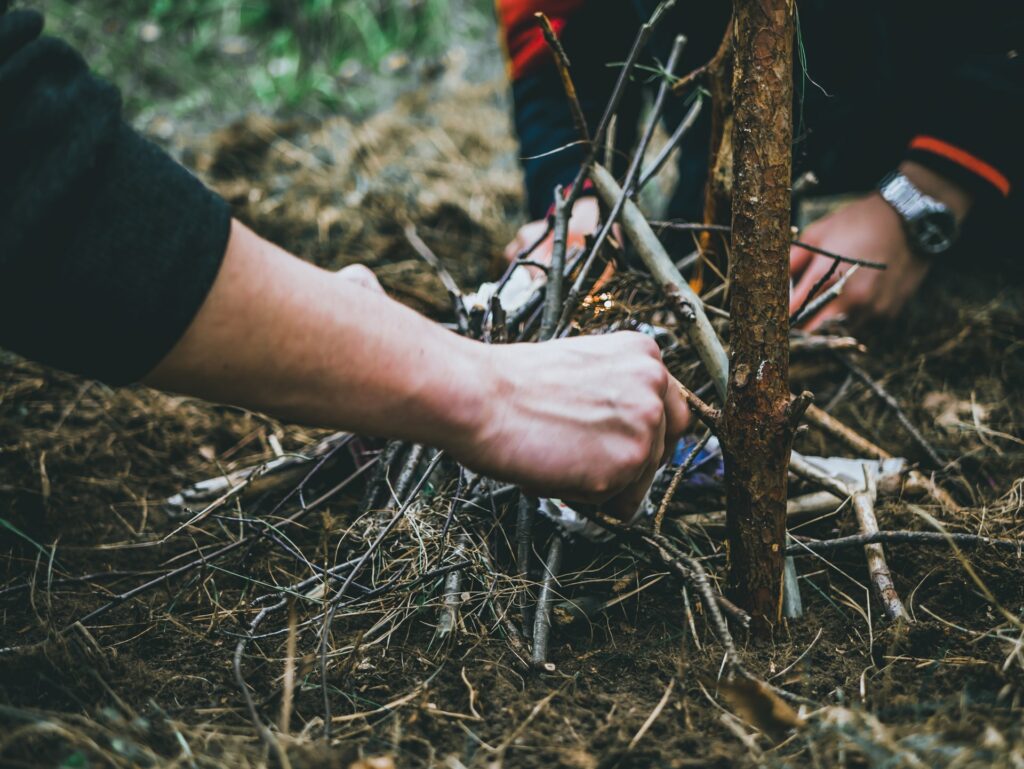 7-Survival Tips For Hiking
In the beginning, we talked about the survival straw which is always in my backpack. There are a few other items I suggest you include and carry with you always when you go into the backcountry, even for a short hike. Remember the old statistic that most car accidents happen less than a mile from home? If not, that's OK. The point is that if you get a mile into the wilderness and have an accident, you need to be able to survive if you can't get a call out because there is no cell signal.
You can buy a survival kit already stocked with the items you need to survive, or you can create your own. At a minimum, you should carry a knife, a magnesium fire starter, a length of good strong twine, and an emergency sleeping bag to stay warm. If you can start a fire, build an emergency shelter, and stay warm you have a better than average chance to survive most situations.
Those are the 7 top tips for hiking. It is by no means an exhaustive list, but if you follow these tips your experiences in the wild will be stress-free and enjoyable. When you realize you can handle anything that might happen, you stop worrying and you enjoy the time you get to spend in the great outdoors, enjoying all that nature has to offer.