Bear Creek In North Arkansas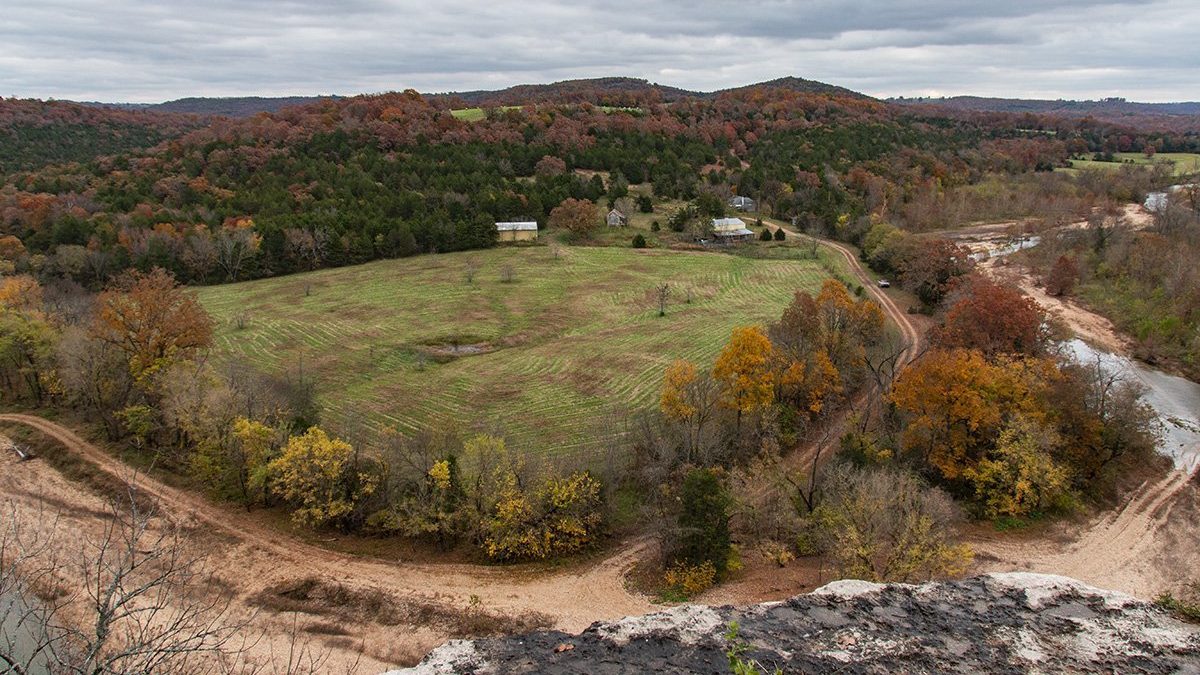 Our adventure today takes us on a tour of Bear Creek in North Arkansas. This pristine creek begins near Harrison, Arkansas and meanders through the Ozark countryside until it finally empties into Bull Shoals Lake. There are interesting sights all along Bear Creek for those who like to get off the beaten path.
Bear Creek Spring
Bear Creek begins at Bear Creek Spring, a natural spring that provides the water for the trout farm at Devito's Restaurant. You can feed the trout in the pond for 25 cents per scoop of trout food. You can also catch your dinner in the trout pond and have it cooked fresh at Devito's when they are open. No fishing license is required. They will also pack your catch in ice. For details, you can visit their website.
On our visit, the restaurant wasn't open, but we did stop for a few photos. Below is a photo of Bill feeding the trout.
Please note you can see a larger version of the photos by clicking the photo.
This is a shot of Bear Creek just below the spring. The trout farm is on the left.
Below is a map showing the exit from US 65 onto Old US 65 to reach the restaurant and trout farm. If you have driven to Branson, MO. on US 65 you could have driven right past and never known this was here.
---
Show your support and get your Lost In The Ozarks 15 oz coffee mug. Just click the link: https://lostintheozarks.com/product/15-oz-logo-coffee-mug
---
Myrtle Train Trestle
The next stop on our adventure takes us to the Myrtle Train Trestle. This train trestle crosses Bear Creek. It is about 640 ft. long and sits at an elevation of about 960′ above sea level. If your GPS accepts coordinates they are approximately 36°25'07" N, 93°09'48" W. If you drive under the trestle on Hopewell Road there is also a concrete road bridge that the creek runs under.
This shot was taken looking up at the trestle from the road underneath.
---
Haggard Swinging Bridge
Not far from Devito's and the trout farm is a historic swinging bridge over Bear Creek. The Haggard Swinging Bridge was completed in 1941. It was restored in 1977 and was added to the National Historic Register in 1995. It is located off Cottonwood Road near Harrison. The GPS coordinates are 36°20'45" N, 93°07'50" W.
For the next stop on our adventure you are going to have to drive a little ways. You'll want to get back on Cottonwood Road after you explore the bridge. Continue until you reach the spot where the road makes a tee and make a right turn onto Dubuque Road. We are going to be driving through the small town of Self, AR. When I say small, I really mean tiny.
Follow the road past a few farms and a cemetery and there is a spot on the side of the road that is a little wider than the rest of the road. It is hard to spot, so you'll need to be looking for it. There is a small trail into the trees.
Walking the trail it is only about 30′ off the road that you will walk onto a huge rock. At this point, it is a good idea to caution you that this is probably not a spot to visit with small children. The rock overhang is a sheer cliff about 190 feet above Bear Creek. There are no safety rails so be VERY careful if you decide to visit this one. It's also not recommended for those with a fear of heights. These photos will show you why that is.
The Final Stop
At this point it is a good idea for those driving cars to head back the way they came. This is because from here on Dubuque Road shortly gets steep and rocky. SUVs and pickups are OK and you won't need 4-wheel drive unless the weather has been horrible.
If you continue down Dubuque Road the next place you will encounter is a low water crossing on Barren Fork. Don't try and cross this if there has been a lot of rain in the area. The water is swift and can get deep after heavy rains. Turn around in this case and don't drown.
Continue to follow Dubuque Road, and you'll eventually arrive at the junction of Highway 14. You'll want to turn right on Highway 14 and follow it for a few miles toward Lead Hill.
Lower Bear Creek
After about 4 1/2 miles on Highway 14 you will come down a hill. At the bottom of the hill will be the Bear Creek Bridge. On the left side of the road there is a small turnoff that goes down to the creek beside the bridge. You can park here and wade in the creek or enjoy the shade of the bridge if it is hot.
This is the last place you can get to the creek before it flows into Bull Shoals Lake on public land. We spent one afternoon walking down the creek when the water was low. I've included a few of those shots below.
To complete your adventure you can go in either direction of Highway 14 to get back to US 65. Right on 14 will take you to Omaha and you can join back up with US 65 close to Branson. Left will take you to Lead Hill where you can turn right on Highway 7 back to Harrison.
I hope you enjoyed this post and hopefully soon you can make it your own adventure. Even if you only make to a few of the stops it contains a lot of beautiful scenery. If you like the blog you can keep up with other things we are doing on our Facebook page.
About Post Author