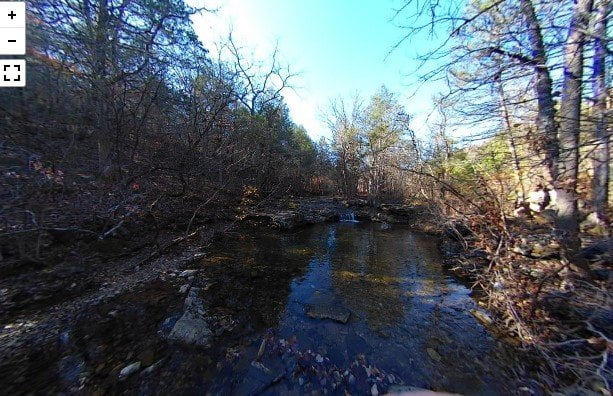 The Waterfall Hiking Trail in Branson, MO is a short trail to a low waterfall. The trail is just up from the parking area near the entrance to a local resort. There is a sign at the trailhead. The trail is around 2/3 of a mile each way. It is flat for the most part, but it is rocky and can be slick. Signs along the way tell you when you need to cross the creek. After a short hike, you arrive at a waterfall a couple of feet in height. It can be a nice way to experience nature if you want a change of pace when visiting Branson.
There are other hiking trails to visit in Branson. You can hike at the Ruth and Paul Henning Conservation Area, or at the White River State Park.
---
The camera we use for 360° photos. Click the photo to get yours today!
---
360° photos of the Waterfall Hiking Trail.
Use Your Mouse or Move Your Phone to Look Around.
---
---
On the map above click on "View Larger Map" to go to Google Maps. Then copy & paste the code below into Google Maps to view the location. You can also use the code in Google Maps on your phone. Use the satellite view for the best overview.
Code
MP2M+XM Branson, Missouri
About Post Author