2023 Update
We did this hike again in late February 2023 after significant rainfall. Our hope was that there would be more water running over the falls than when we visited in November 2021.
We also wanted to try and find Calypso and Splashdown Falls. These waterfalls are located up a side drainage a short distance from Keefe Falls.
You can watch the video we shot on the hike at this link: https://www.youtube.com/watch?v=suGO3T2GV3k
We give some good updated info on finding these waterfalls, along with GPS coordinates and other tips. If you want information, tips, and GPS coordinates for other waterfalls in the area, as well as the Ozarks region, be sure and check out my new book available for Kindle and paperback.
---
---
Terry Keefe Falls is a short hike off Falling Waters Road in the Richland Creek area of the Ozark National Forest. The hike is a little over a mile out and back to the parking area. This short hike is very scenic, with tall bluffs to one side and a small drainage to Falling Waters Creek on the other.
While camping at the Richland Creek Recreation area in mid-November, my friends and I had the opportunity to hike this trail. We did this one after the short hike to Six Finger and Fuzzy Butt Falls. Since these were such short hikes we still had plenty of time to do this short hike to Terry Keefe Falls on the same day.
The trailhead for the falls is a little over .3 miles past Six Finger Falls on the right. There is a place to pull off Falling Waters Road on the left. This may not be the best waterfall in the area, but it is still a gem to see with your own eyes. Terry Keefe Falls is in a box canyon similar to Fuzzy Butt Falls. The falls are 78 feet high, so it is one of the taller waterfalls in the area.
---
Download The GPX File
GPX files are also known as GPS Exchange files. These are text files that contain route data that you can download to your computer and then upload to your phone or handheld GPS unit.
Terry Keefe Falls GPX File Download – $1.99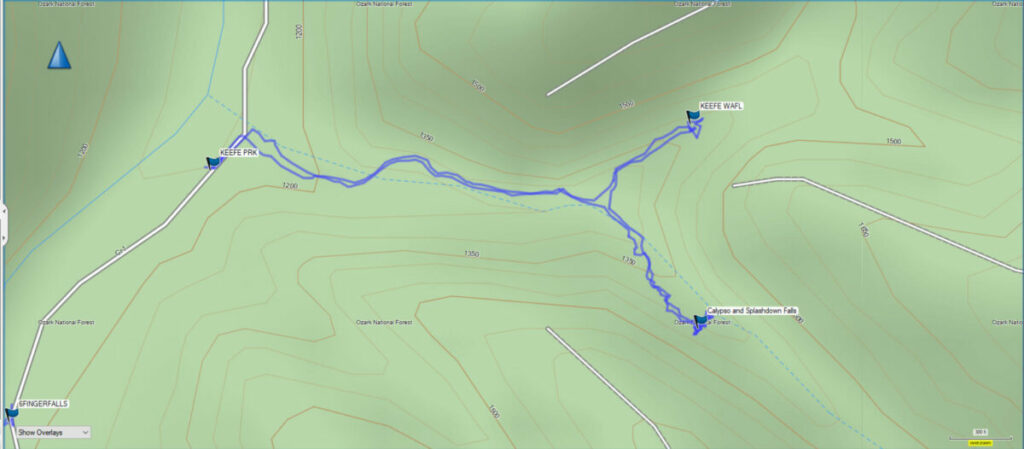 ---
Remember, this area is literally in the middle of nowhere. Be sure and download maps you may need, as cell service is almost non-existent in this area. Better yet, you can get the Arkansas Waterfalls guidebook by Tim Ernst. Keep it in your backpack and you'll have directions to a huge list of waterfalls in The Natural State.
---
The camera we use for 360° photos. Click the photo to get yours today!
---
To navigate the virtual tour use the arrow at the top right.
Terry Keefe Falls is pretty easy to find even without a map. As you start down the trail you will cross the Ozark Highlands trail around mile marker 41. Continue to follow the trail you are on, keeping the bluffs to your left and the creek to your right. You will come to a point where the creek turns left. You can stay on the trail if it is wet, or just follow the creekbed if it has been dry, as was the case when we were there. There wasn't a large amount of water flowing due to the dry conditions, but there was still a trickle of water coming over the falls. This would be an awesome waterfall after some heavy rains, I'm sure.
I would rate this as an easy hike. There is very little elevation change, and until you get to the creek the trail is pretty flat and easy to navigate. Beware of the slick rocks as you near the falls. They can be treacherous, so watch your step. This is a fun and easy hike with a tall and impressive waterfall at the end. This is one for the kids to enjoy too. There are no steep bluffs or other places they would need to be careful of.