Steele Falls is a waterfall many people have not heard of. It is located in the Ozark National Forest near the Gunner Pool recreation area. If you've ever visited Blanchard Springs near Mountain View, Arkansas you were only a short distance from this hidden gem.
At around 60 feet, Steele Falls is one of the taller waterfalls in Arkansas. The water pours over the side of a bluff and onto the rocks below. It appears the stream that creates the falls is spring-fed since the creek we crossed to get to the falls was dry above where the creek from the falls flows down into it. But there was water running over the falls on the day we visited in mid-March.
Watch the video below to see the hike down to Steele Falls.
My GPS measured the total for the hike at 2.9 miles with a little over 400 feet of elevation change. The trail is an old abandoned forest road, and it was wide and clear of vegetation when we hiked this in early March. Just keep following the road down until you reach a creekbed. There will be a trail sign on the far side of the creek. Follow the trail up the small drainage a few hundred feet and you will be below Steele Falls.
It appears there is a trail running around the bluff line. There may be a way to get above the falls if you feel like trying to find it. We didn't explore that far on the day we were here. We spent some time below the falls taking in the scene and hydrating for the hike back out.
The hike out is mostly uphill, with a few flat spots on the trail. Although it is uphill most of the way out, the grade isn't too steep, and we only stopped to shed jackets and another time to talk to a couple of people we met on the trail going in as we were coming back out.
---
Download The Steele Falls GPX File
GPX files are also known as GPS Exchange files. These are text files that contain route data that you can download to your computer and then upload to your phone or handheld GPS unit.
Steele Falls GPX File Download – $1.99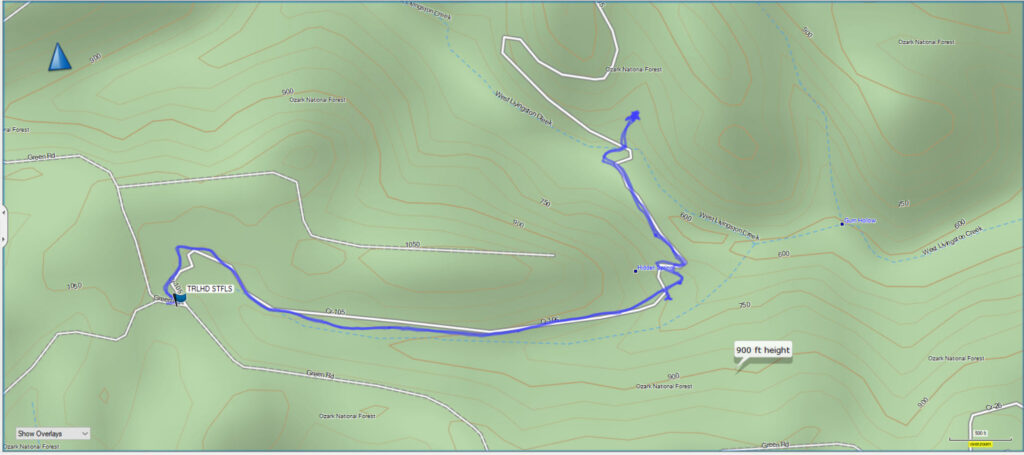 ---

---