Myrtle Trestle On Bear Creek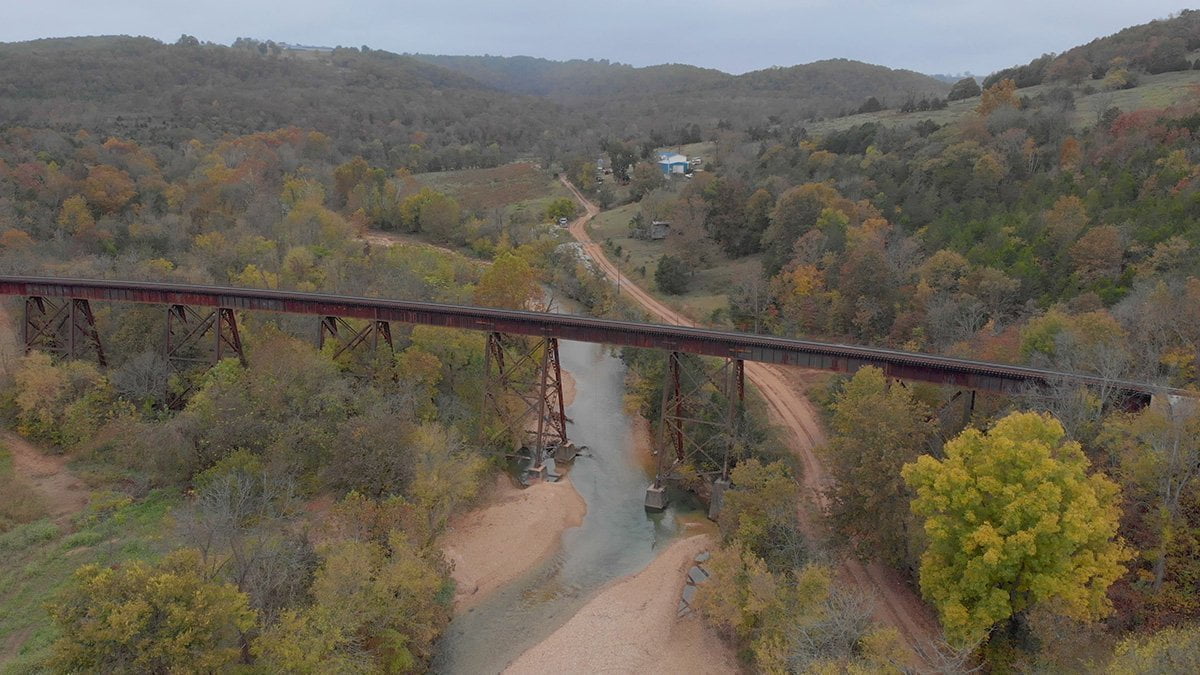 The Myrtle Trestle on Bear Creek is a sight to see. The trestle is part of the Missouri and Northern Arkansas railroad line between Bergman and Guion, Arkansas. The line is still used today to ship products.
We weren't lucky enough to have a train pass while I was flying. However, I have read that trains use the line frequently. Those accounts were found while doing a search to ascertain the history of the trestle and the railroad.
I found this site which shows the rail lines that M&NA Railroad currently operates. We featured a few photos of the Myrtle Trestle on Bear Creek in a previous article on Bear Creek we did back in July.
Bear Creek runs north from Bear Creek Spring near Harrison, AR until it empties into Bull Shoals Lake. Bear Creek flows clear due to the rocky bottom of the creek for the whole trip to Bull Shoals lake. It is very shallow in most places except when heavy rains come to the area.
It was cool and rainy on the day we visited. However, just before we arrived the rain stopped and a quick check of the cloud ceilings let me know it was safe to fly. So we shot some quick video and I was able to land and get the drone stowed just before it started lightly raining again.
The map below shows you how to get to the area to view the Myrtle Trestle on Bear Creek for yourself. If you aren't from the area you might not know about this place. During the summer many people from the area drive down to Bear Creek to cool off in the clear waters.
This is a beautiful area to see, just be aware that there is private property surrounding the area. Be respectful of the private property and don't trespass. The road to reach this area is a public road and it has some great views while driving in. The road can be a little rough but it shouldn't be a problem for most vehicles.
If you like this article please follow us on Facebook to see all the news we post. If you like the video above please subscribe to our YouTube channel so you won't miss it when we post new videos.
About Post Author