Bear Creek Canyon is located in the Ozark National Forest in north Arkansas. This area is a waterfall lovers' paradise. We viewed 6 distinct waterfalls within a few hundred yards of each other. I will add that this hike was tougher for me than the other hikes we have taken. It is a little less than a mile down to the first fall on the trail. The elevation change was noted as 650′ on my GPS. It is very steep and at times the trail is very narrow along the bluff line beside the creek.
We set out at around 7 am on a cold morning in early February 2021 to drive down to the trailhead. Our trip took us out of Harrison, AR. on State Highway 7 south. From Harrison, the drive down took a little over an hour and a half. Once you reach Sand Gap (still listed on some maps as Pelsor) turn right onto State Highway 123 to the west. Approximately 4.4 miles west, you will see a forest road to the left. There isn't a traditional road sign on the highway, so you want to be looking for a small signpost close to the trees with 1802 on it. That is the road to the trailhead.
---
The camera we use for 360° photos. Click the photo to get yours today!
---
This road is a lot better than most of the roads to reach hiking trails in the Ozarks. I had no problem with my 2-wheel drive SUV. If there hasn't been a lot of rain, I would say even passenger cars could easily navigate this road. About 2.2 miles from the highway there will be a small parking area on the left and a few yards further down the road there is a rutted road that leads into the forest on the right. There is a small sign there like the one on the highway that designates this road as 93179A. This is where you want to begin your hike if you don't have a 4WD vehicle.
Walk a short distance along the old logging road until you enter a clearing. Turn right and walk across the clearing. You will see a highland swamp behind the clearing, with a drainage running downhill. This leads to the aptly named Swamp Falls down in Bear Creek Canyon. You will want to make sure you are on the right side of this drainage as you descend. You should be able to pick out the marking tape along the volunteer trail that has been marked. The trail isn't subject to a lot of traffic, so it may be hard to spot in places. Just look up ahead, and you should see the markers to guide you.
After marking the parking location in my GPS, we started our hike down the trail into Bear Creek Canyon. This is not a well-worn trail, but it wasn't a complete bushwhack either during this time of the winter. The trail will lead you down to the top of Swamp Falls. From here you can also see Sidewinder Falls just a short distance upstream. In warmer weather, I can see how the briers and other sticking weeds might make this a lot more of an adventure.
360° Photos. Use Your Mouse Or Move Your Phone To Look Around.
---
We chose to cross the creek at this point and head downstream to view the other falls along Bear Creek Canyon before heading upstream. The trail is narrow and slick in this area after rain, so USE CAUTION! There is a break in the bluff line a few hundred yards down the trail past Slot Pool Falls. On the day we were there, we also had the added enjoyment of viewing an unnamed fall pouring over the bluffs high above and cascading down into Bear Creek.
---
Now that you have made it down from the bluffs, you can make your way back upstream to view Slot Pool Falls (AKA Long Slot Falls). If there has been much rain, you will probably get wet crossing the creek. I did get wet feet making this crossing. But the view from below the falls of the beautiful turquoise pool made me forget about my wet feet.
---
---
We were unable to get around the falls without getting wet, so we returned up the bluff and headed back the way we came. The trail passes V Slot Falls, and we were able to climb down a little to an outcrop for some photos of the falls from above.
---
---
At this time, we followed the trail back to Swamp Falls. From this point, there is a trail beside the creek heading upstream. You can see Sidewinder and Baby Bear Falls from here when the leaves are off the trees. We walked the trail to Baby Bear Falls a few hundred yards and were astonished at another unique waterfall with a gorgeous turquoise pool below it.
---
---
At this point, we returned toward Swamp Falls to visit the last waterfall on our list, Sidewinder Falls. This waterfall cascades down a twisting slot in the canyon and although the water was too high for us to get below it, I was able to get a photo from the top with Swamp Falls in the background.
---
---
We didn't have time to explore more on this trip because we knew we still had a rough hike uphill ahead of us. It is about a mile out from here and the trail is very steep. In my opinion, this hike out was tougher than when we hiked Hemmed In Hollow Falls. It is a shorter distance, but there are very few level stretches on this one. Plan to take several rest stops along the hike out to the parking area.
This should definitely be on the list of every waterfall lover. Go after a rain or during the rainy season to get the best views. Be sure and have a compass or GPS, preferably both, in case your electronics fail for whatever reason. I did note that I received messages on my phone in several spots, so there is spotty cell reception, but once down into Bear Creek Canyon, there was no service. This is typical of this area of the Ozarks, so plan accordingly.
---
Download The GPX File
GPX files are also known as GPS Exchange files. These are text files that contain route data that you can download to your computer and then upload to your phone or handheld GPS unit.
Bear Creek Canyon GPX File Download – $1.99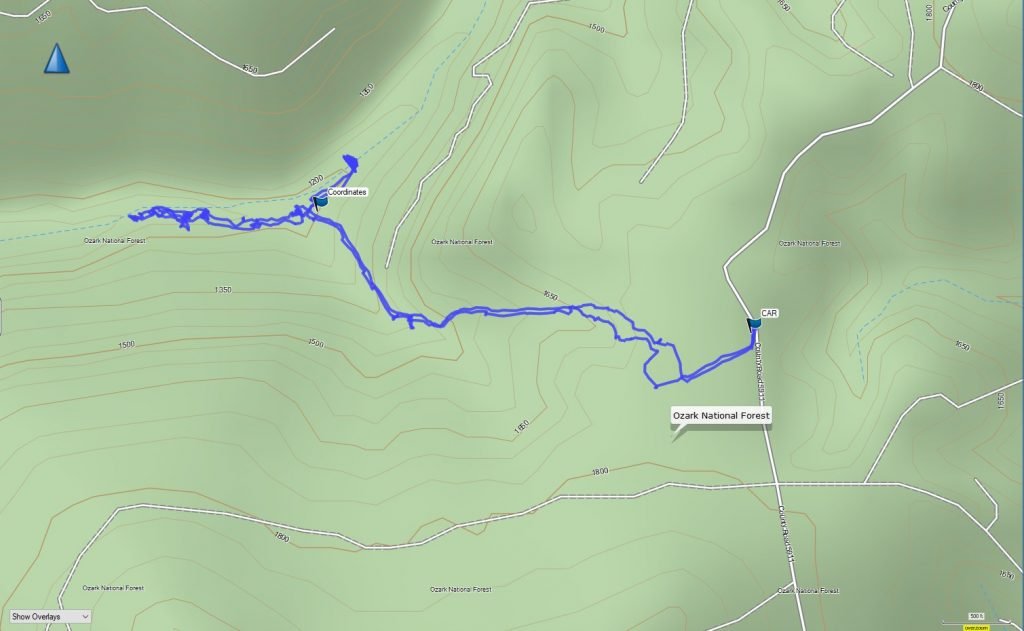 ---
Elevation Graph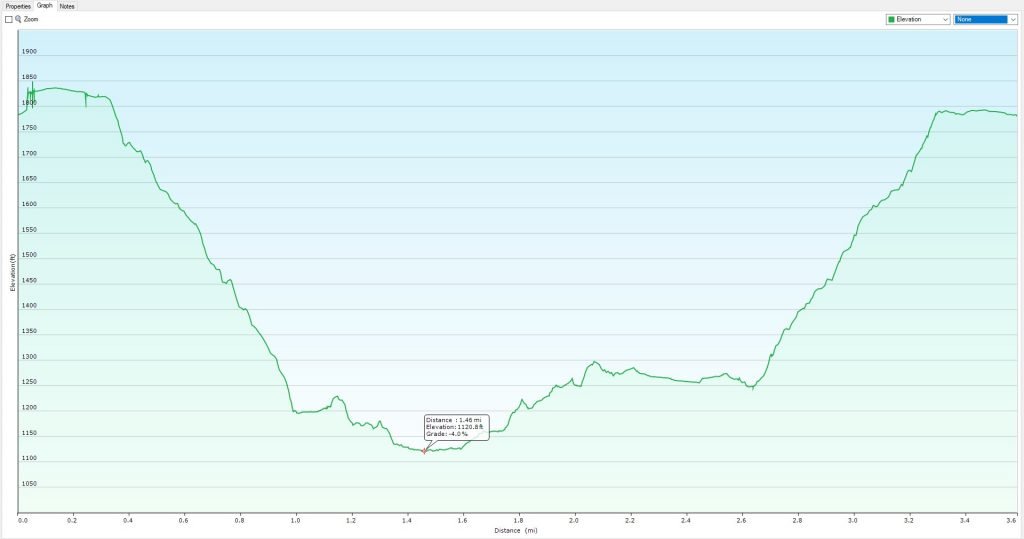 ---
---
---
---
On the map above click on "View Larger Map" to go to Google Maps. You can copy & paste the code below into Google Maps to view the location if needed. You can also use the code in Google Maps on your phone. Use the satellite view for the best overview.
Code
No Code Listed
If you are interested in an easier hike within a few miles of Bear Creek Canyon be sure and check out our post on Buzzard's Roost Hiking Trail.