Friday, May 24th of the 2019 Memorial Day weekend Gary and I are meeting some friends on Persimmon Point on Bull Shoals Lake, which is just a few miles from our place. We are going to sit by Bull Shoals Lake and grill some brats.
There are a few primitive campsites on the point, of which only one is out of the water. Upon arriving at the lakeshore we find some campers are already set up in the only place with a picnic table. Since we are already down there Gary and I lead my friends, Dave and Deanne, to the lakeshore on a barely identifiable road.
While Dave and Deanne have a Jeep Wrangler, neither has been down a trail like this in decades. The main risk on this road is high centering your vehicle. Since we had two Jeeps we were pretty sure that even if that happened we could get out unscathed.
We make it to the lakeshore on Bull Shoals Lake and set the portable grill up. There has been lots of rain this year and while there are lots of woods we were afraid there would be no dry wood on the forest floor. So we threw the small portable charcoal grill in to take with us just in case. As we expected, the wood was pretty wet so we went with the grill for cooking.
We visit while waiting on the fire to be ready and shortly after eating Dave and Deanne decide to leave so they won't have to navigate the trail by headlights. Gary and I, liking adventure, stay till dark. The temperature was really hot for the month of May but dropped nicely about an hour before sunset.

Gary gets some nice sunset photos from Persimmon Point, and we notice the fish coming into the flooded lakeshore. Note, always throw fishing poles in the ride when you know you will be near the lake!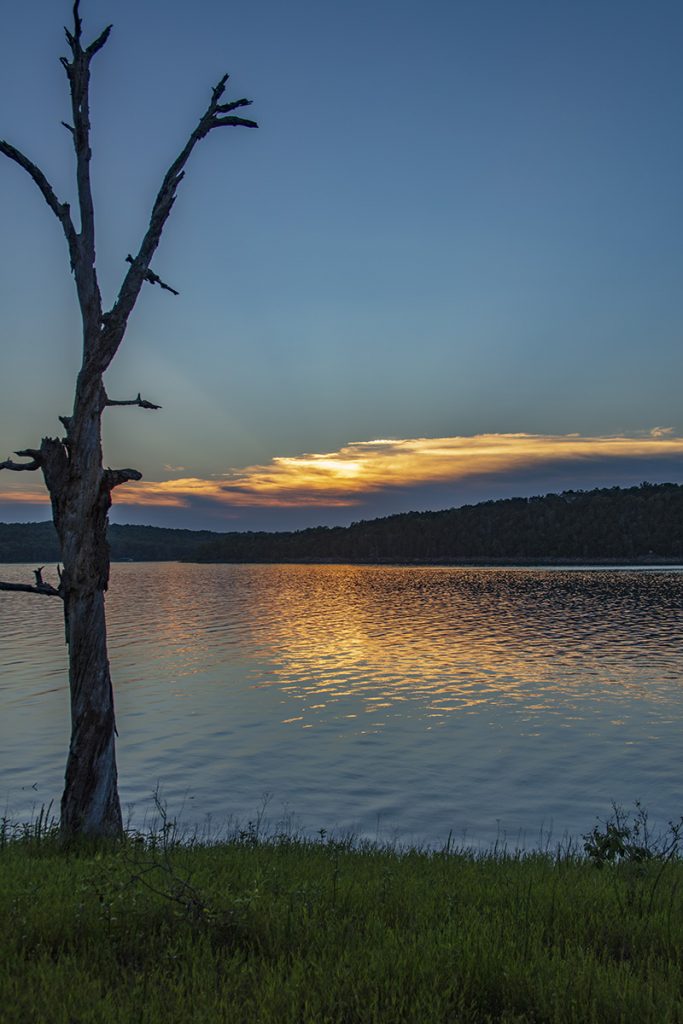 ---
We pack up our trash to pack it out. Gary and I make it out in the growing darkness with no problem. We are almost home when we have a deer run in front of us less than a mile from the house. That little scare is included in the video below. No deer were harmed in the making of the video.
We ended up having a nice evening on Bull Shoals Lake. While the sun was above the clouds we just wished it was cooler. But once the sun went behind the clouds low in the west the temperature must have dropped by 10 degrees almost immediately.
Plan your visit to Bull Shoals Lake this summer. Feel free to contact us using the contact form on the site. We will be glad to recommend local places to stay and things to do while you are here. It's a truly gorgeous place to play!