See the highlights of our hike from Ponca to Steel Creek campground below. Use the arrows at the top right of the screen below to cycle through the virtual hike. Use your mouse to scroll and look around. Your scroll wheel can be used to zoom in or out. You can use the controls on the bottom right to go full screen and view a filmstrip so you can skip to any photo in the virtual hike.
Check out our video of the hike. I shot the video on the return leg of the hike.
To have acceptable quality these 360° photos are large files. They may take a moment to load.
---
The camera we use for 360° photos. Click the photo to get yours today!
---
We wanted to put together some content of our hikes showing the points of interest with 360° photos. We want to let people have the opportunity to see how the hike will look before they go, and also let those who can't get out and do it anymore see these places too.
If you want to do this hike yourself you can read more about my experience below.
The hike from the low water bridge at Ponca to the Steel Creek Campground is about 2 miles. I would rate it as moderate because there are a couple of steep areas and the trail is narrow in some spots. The elevation gain is about 400 feet as indicated on the elevation graph below.
There are some astounding views of the Buffalo River from the trail high above on the bluff line. I'm sure the views are even more spectacular when the leaves are off the trees and we've had more rain.
GPS Map Ponca to Steel Creek
---
Download The GPX File
GPX files are also known as GPS Exchange files. These are text files that contain route data that you can download to your computer and then upload to your phone or handheld GPS unit.
Ponca to Steel Creek GPX File Download – $1.99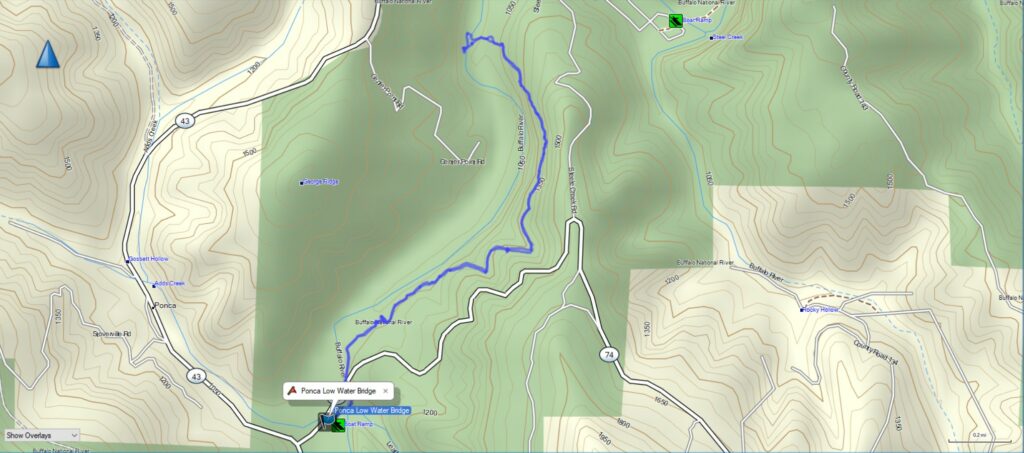 ---
Elevation Graph

Click the graph for a larger view.