Whether you want to grow edible mushrooms at home to provide food for your family, or as a sweet side income, you'll be able to use what I have learned to help you get started. Although I just got my first harvest of blue oyster mushrooms, I learned a lot about mycology and the mushroom life cycle.
This foundation can help you learn to grow edible mushrooms at home too. You don't need to be a genius or a mycologist to grow edible mushrooms. But it helps if you have some general knowledge. Since there are tons of resources on the internet, I'm not going to spend a lot of time on that in this article. Just know that the knowledge will be necessary if you decide to get into this as a hobby or small business. I'll go more in-depth as these articles progress.
Why Would I Want to Grow Edible Mushrooms at Home?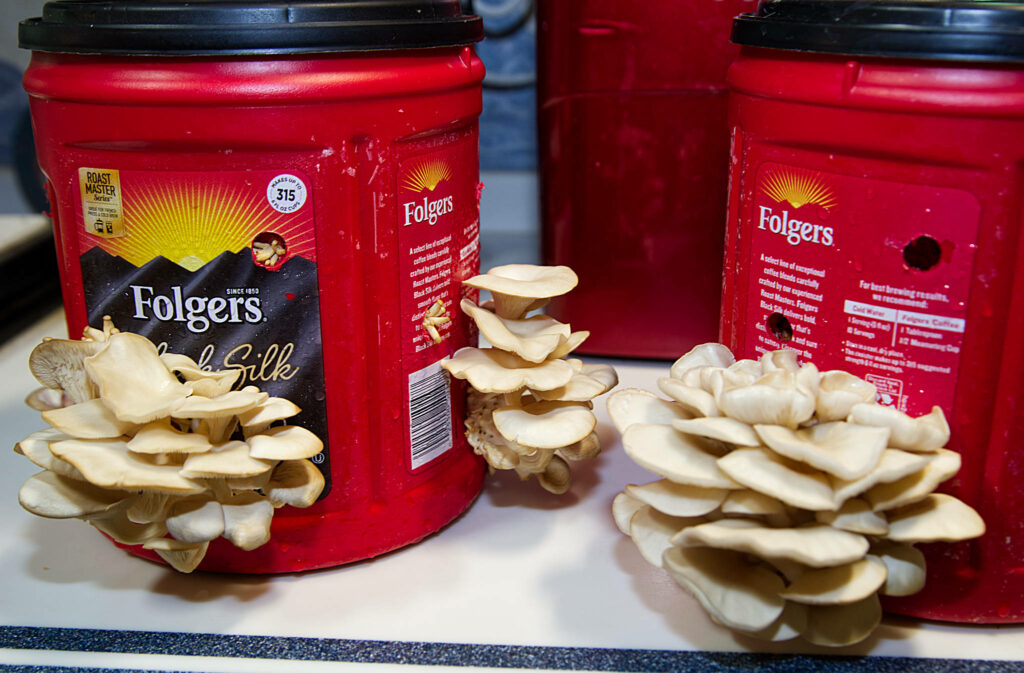 There are a number of reasons you might want to grow your own edible mushrooms. Prices for everything are skyrocketing, so growing your own food can help you save money.
Mushrooms are full of essential nutrients that your body needs. Mushrooms are high in fiber and protein. They can supply your body with trace minerals that may be lacking in your diet, and they are low in calories. Best of all, they taste great!
They can be a part of your long-term food storage by freezing or drying them for later use. They can be dried for storage by placing them on a rack at low heat in the oven or using a food dehydrator. They can also be frozen by laying them out on a cookie sheet in a single layer and then placing the sheet in the freezer. If you flash freeze them in this way you can place them in bags frozen individually for storage. When you need them for a dish you can easily use just what you need. If you throw them in a bag together before they are frozen they will freeze into a giant frozen mess, since mushrooms are up to 90% water.
What Options are There for Growing Edible Mushrooms?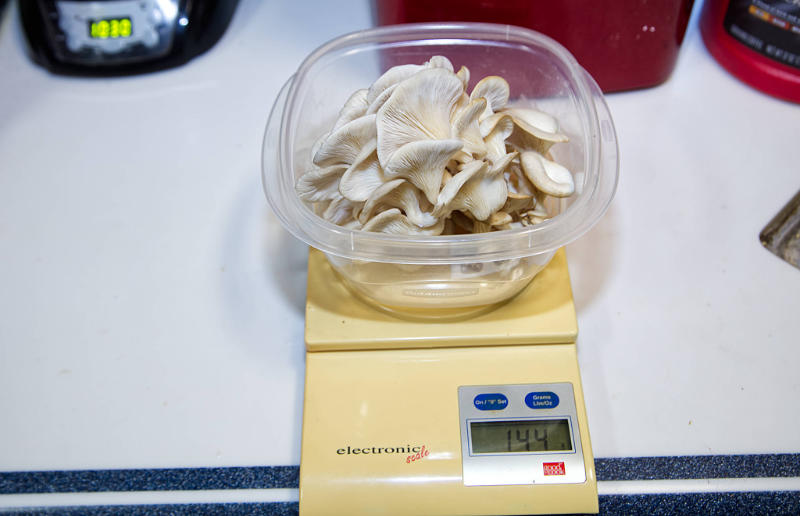 In this series of articles, I'll talk about the different methods to grow edible mushrooms at home and your options for doing so.
The easy method covered below is what many people will most likely opt for. This option is for those who like the taste of fresh mushrooms but don't have the time or space for a growing setup. However, I will be covering methods you can try that use commonly available equipment that can be found locally or quickly online at little cost. An example of that would be the photo above where I used recycled coffee containers and modified them easily to adapt them to grow oyster mushrooms.
Don't worry, I'll cover that in future articles due to the fact that it is much more involved and time-consuming, and a certain amount of research, knowledge, and skill are required. That's why I decided to break this article down into several parts as I began writing. Otherwise, it would most likely become cumbersome to read.
The Easiest Method
By far, the easiest method for growing your own gourmet mushrooms at home is to buy a pre-spawned fruiting block in a kit from a supplier. The supplier has already done all the hard work for you. The kit comes in a box with a bag inside that is ready to fruit and produce mushrooms. All you do is sit it on a shelf or counter out of direct sunlight, mist it with water about 3 times a day, and in about a week you can begin harvesting mushrooms ready to cook and eat.
Many beginners start out this way, and we offer a number of options for mushroom growing kits in our shop.
Conclusion
When you grow mushrooms you have a lot of options. Obviously, the easiest method, and the one many people decide to use, is to purchase a mushroom grow kit online. If you don't have a lot of time, this method can allow you to harvest fresh mushrooms with minimal effort. Just a small space on a shelf or counter out of direct sunlight is all you need. Just follow the directions that come with the kit, and soon you'll have a bounty of tasty, fresh mushrooms.
In the next article, I'll begin covering my experiments and the results of how I began growing edible mushrooms at home. I'll continue to post updates as I find new methods and learn new tricks. I hope you will follow along on this journey into the cultivation of edible mushrooms at home.