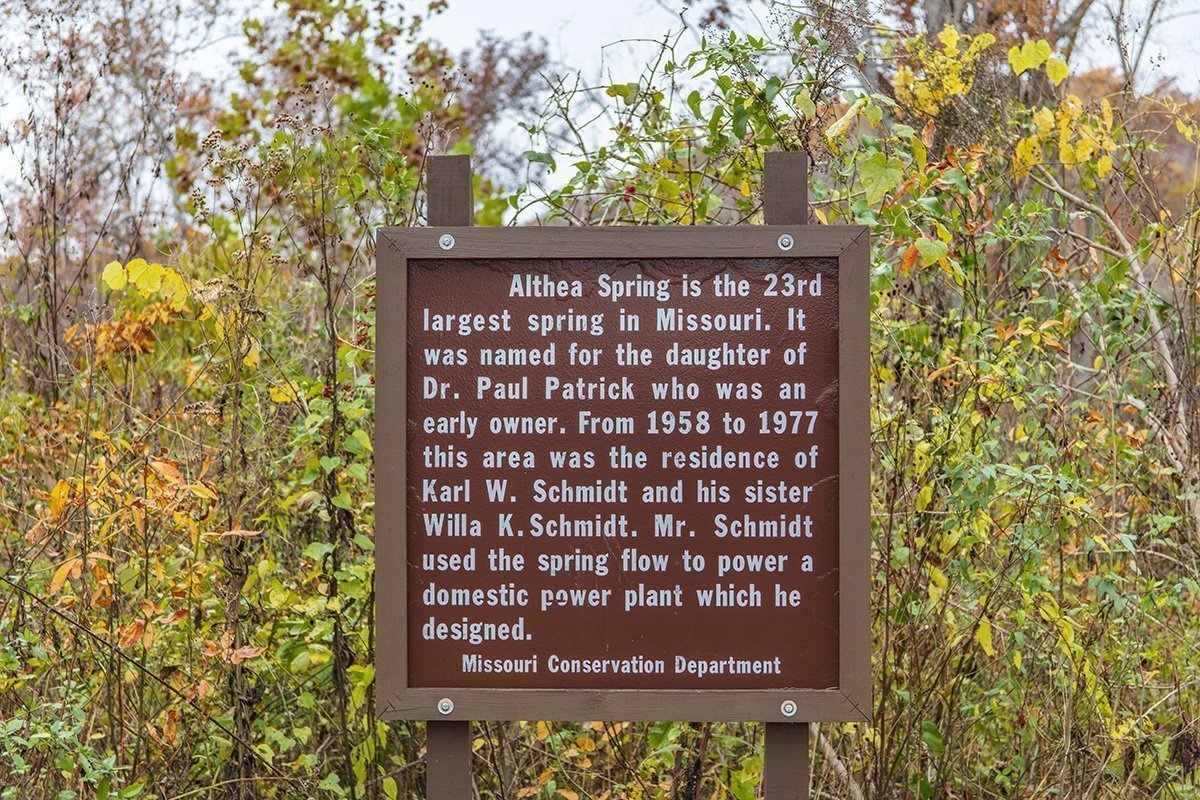 If you enjoy finding out of the way places then a day trip to Althea Spring is just what you are looking for. Althea Spring is the 23rd largest spring in Missouri. And when I say it is an out-of-the-way place, I mean out of the way.
Althea Spring is just up the hill from Patrick Bridge in the Patrick Bridge Conservation area. The spring bubbles up from the rocks in the hillside and runs downhill into the North Fork River. The spring emits a flow of about 12 million gallons of water per day or around 19 cubic feet of water per second.
As you can see from the map above there aren't many towns close by. Drive down Missouri Highway H until you reach the bridge. There is a parking area on the west side of the road. Walk up the hill a short way and you'll reach Althea Spring. You can see the spring on the map if you zoom in to the Patrick Bridge area.
The water that is discharged from the spring is a deep blue. In the stream that is produced by the water flowing from the spring, there is an abundance of plant life which thrives in the cold water filled with nutrients.
If you follow the stream a little further you will come upon the waterfall that is formed by a concrete dam that was placed in the stream. This was used as a source of power by Karl Schmidt. Mr. Schmidt designed a power system that used the flow of the spring to generate electricity for the home he shared with his sister.
If you continue to follow the trail downstream you will find where the stream from the spring enters the North Fork River. The North Fork River in this area is known for its trout fishing. To find out more about the trout fishing opportunities in this area you can read this article on the Conservation Federation of Missouri website.
Patrick bridge over the North Fork River is a single-lane concrete low water bridge. It becomes impassible in times of high water. Caution is advised when crossing the bridge since it is only a single lane.
The North Fork River in this area is rugged and scenic. Float trips are available on the river, and several outfitters are in the area. In case you were wondering, yes this is the North Fork of the White River that becomes Norfork Lake in Arkansas. Below the dam, at Norfork Lake, the river joins the White River and eventually flows into the Mississippi River in southeast Arkansas.
If you decide to visit the area a good map will serve you. Be advised that due to the mountainous terrain cell phone reception can be spotty.
Please be sure and like and follow us on Facebook.