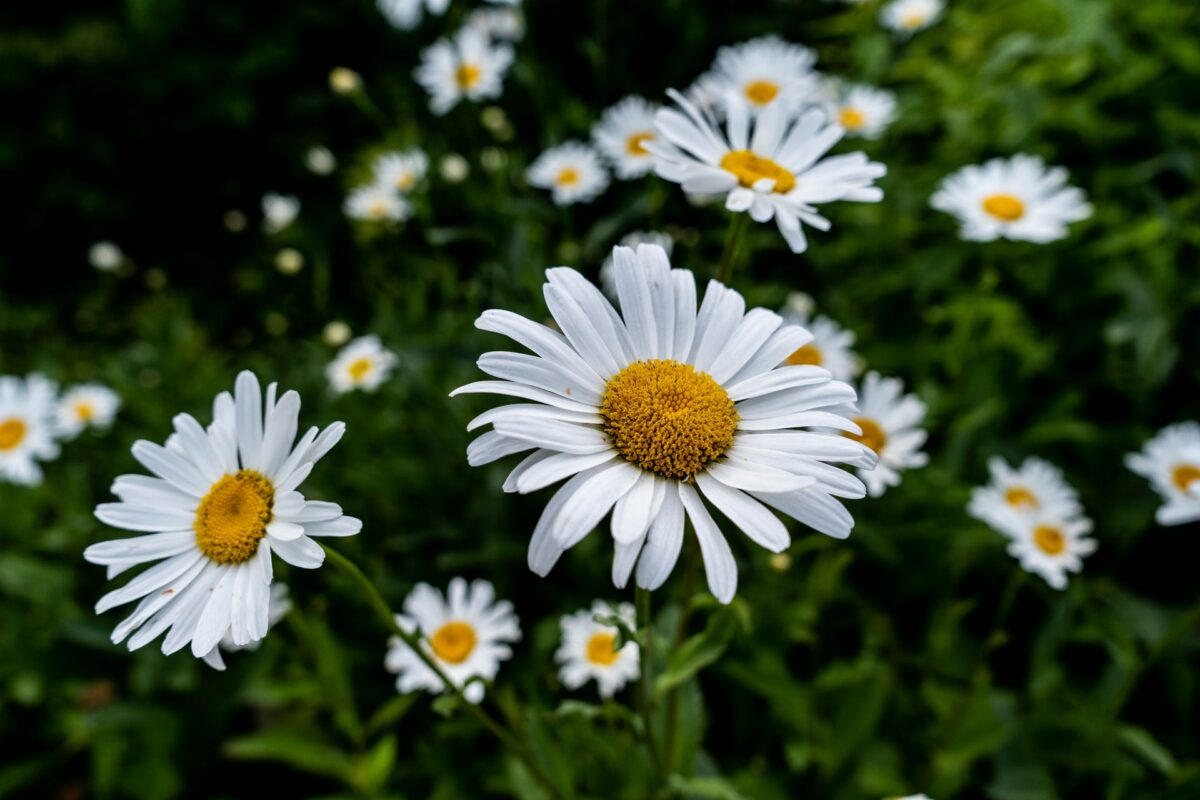 Roman chamomile benefits are wide-ranging for your health and wellness. Chamomile is one of the oldest medicinal herbs known to man. It has been used since ancient times for its medicinal and aromatic properties. There are two types of Chamomile essential oils. There are Roman Chamomile (Anthemis nobilis) and German Chamomile (Matricaria chamomilla L). They each have subtle differences that you should be aware of when purchasing. In this article, I am going to look at Roman Chamomile benefits.
Pure Roman Chamomile essential oil is expensive. The oil is produced from the steam distillation of the flowers. Most floral essential oils demand a higher price because it requires many pounds of flowers to obtain a few milliliters of the essential oil. The good news is that with the concentrated essential oil a few drops go a long way.
My favorite use of Roman Chamomile essential oil is to use 2 drops in a diffuser with 4 drops of Lavender essential oil. I use this blend on nights when I am having trouble falling asleep and it never fails to relax me and let me fall asleep fast. I just place the diffuser next to the bed and I get to sleep fast and it is some of the most restful sleep you can get.
Roman Chamomile essential oil is non-toxic and non-irritating. It is considered safe enough to use with children, and it has been used to effectively calm children with ADD/ADHD.
It should not be used by women who are pregnant or nursing. Those with allergic reactions to ragweed and some other flowers should use with caution due to the possibility of allergic reactions to the oil.
Roman Chamomile benefits also include:
Helps With Anxiety
The oil has a calming and sedative effect when inhaled or used topically when blended with a carrier oil. The calming effect has been observed in both adults and children. Inhaling the aroma allows the fragrance to be carried directly to the Limbic System of the brain and stimulates the release of certain brain chemicals that promote relaxation and mindfulness. Roman Chamomile essential oil is one of the safest essential oils to use with children when applied at a proper dilution (0.5-1.0%).
Helps With Insomnia
Its calming, and sedative effects are effective in relieving symptoms of insomnia and the inability to stay asleep. Inhaling the aroma directly from the bottle or using it in a diffuser in the bedroom are both effective to help you fall asleep. You can also place a few drops on a cotton ball near the bed for passive diffusion in the bedroom. It can also be used in a relaxing massage when diluted with a carrier oil.
Useful For Colds & Allergies
When inhaled Roman Chamomile essential oil has anti-inflammatory, antimicrobial, and antioxidant properties. It can help to clear mucus and relieve swelling in the sinus cavities and bronchial tubes. It can be used topically to help relieve skin irritation caused by allergies.
Aids With Symptoms Of PMS
It has antispasmodic properties that can help relieve menstrual cramps. Place a few drops in a tablespoon of carrier oil and rub onto the abdomen. Its other properties can help relieve mood swings, headaches, and body aches oftentimes associated with PMS.
Promotes Healthy Skin
Its antibacterial and anti-inflammatory properties are useful for treating skin conditions such as acne, minor wounds to prevent infection, eczema, and dry cracked skin just to name a few.
Heart Healthy
Some of the chemical constituents in Roman Chamomile essential oil may help to lower blood pressure and protect the heart.
May Help With Joint Pain
You can use the essential oil in a carrier oil to massage into joints or place a few drops in the bath to help with pain relief. Roman Chamomile essential oil has been shown to penetrate deep into tissue when used topically, so it may help with joint inflammation commonly associated with arthritic pain.
Support Digestive Health
It may help improve digestive health and may be effective in relieving gas and bloating, as well as Irritable Bowel Syndrome, indigestion, diarrhea, and cramping. It has been used at the proper dilution to help treat babies with colic.