Many people purchase St. John's Wort as a dietary supplement. Traditionally it has been used for a variety of ailments. It is available over the counter in health food stores, pharmacies and supermarkets in the form of capsules, liquid concentrates and is included in some skin creams.
In this article, I'm going to focus on making your own skin-loving St. John's Wort skin salve. This common little plant can be harvested from the wild in the Ozarks. Read on to see how you can use it to make your own skincare salve for minor skin conditions and wounds.
History Of St. John's Wort
St. John's Wort is a native of Europe, Western Asia, and Northern Africa. The scientific name is Hypericum perforatum. It has been naturalized and now grows in many temperate areas around the world. This includes most areas of the Ozarks.
St. John's Wort gets its name from the fact that it flowers around the time of the summer solstice, or near St. John's Day on June 24th. It was said by some Christian authors that red spots appeared on the leaves on August 29, the anniversary of the beheading of St. John. "Wort" is the old English word for plant. So the name literally means St. John's plant.
It was used as herbal medicine to treat a range of disorders by both the Greeks and the Romans. In the Middle Ages, it was thought that it helped to ward off demons and evil spirits. It was also used for healing all manner of wounds during that time. Modern scientific studies show these ancient uses have a basis in science. Studies have shown that it is just as effective as many pharmaceutical drugs for the treatment of mild to moderate depression, with much lower side effects. It has antibacterial and antiviral properties. It has been shown that some flavonoids in St. John's Wort have anti-inflammatory and neuroprotective properties, as well as being antioxidants. So, as you can see, it has a host of health benefits.
How To Identify St. John's Wort
Once you learn to identify the plant, you can find it growing in disturbed soils along roadsides, in fields, and along forest edges. I actually have good luck riding along the back roads and spotting them from my SUV. When you find it, make a mental note about the location. The plant not only spreads by seeds, but also by rhizomes growing in the soil. This means you can find the plants in the same spots year after year.
They have small pale yellow flowers with five petals. The flowers contain many long stamens in the center of the flower. This is one of the identifying features that help with identification. The five flower petals can also have black dots along the outer edges. They will flower a few at a time over the summer once they begin to bloom. If you can't gather enough at the time you find them, just come back every few days as more flowers open until you have what you need.
The leaves have small perforations along the edges. This is another helpful indicator to identify the plant. Hold a leaf up to the light and the small perforations will seem to glow. These are not holes in the leaf, but instead they contain small membranes which seem to glow when light passes through them.
A final check that you have indeed identified St. John's Wort is to roll a fresh flower or bud between your thumb and forefinger. The crushed flower will release a purplish-red stain in most instances. This doesn't always occur, but the flowers I gathered over the last few days definitely did.
Uses For Your Skin
For use internally, you can make a tincture with the flowers and leaves. However, in this video, I will only focus on making an oil infusion to create a skin salve. The skin salve can be used on all manner of skin problems including bug bites, minor cuts and scrapes, minor burns, sunburn, bruises and blemishes, and minor skin rashes and irritations.
St. John's Wort contains two major chemical constituents that are good for your skin. These are hypericin and hyperforin. These two constituents have anti-inflammatory, antioxidant, antimicrobial, and anticancer activity. In fact, hypericin is a photosensitizer that has shown promise in the treatment of non-melanoma skin cancer. Hyperforin has been shown to stimulate the healing of wounds by stimulating collagen production.
Making An Infused Oil
Obviously, the first step in making your skin salve is to find and harvest some St. John's Wort flowers and leaves. Many experts recommend using the top 6 inches of the plant to gather your leaves, as these should contain the highest concentration of the beneficial plant chemicals that we want. The flowers will open a few at a time over the summer. You can go back and harvest more flowers every few days until you have what you need for your infused oil. You need to make sure and place your flowers in your carrier oil the day they are picked.
St. John's Wort is one of the few herbal remedies that loses all effectiveness when dried. This is not an herbal remedy you can dry and save for use later. You can harvest some flowers today and completely cover the flowers with your choice of carrier oil. Then as you harvest more flowers you can add them to your container. As you add more plant material just add more oil to completely cover it. Once you have enough to fill your jar, place a lid on the jar and put it in a cool, dark place for 6-8 weeks. Shake the jar every few days when you think about it.
You will notice the oil will take on a beautiful red color as the elements are infused into the oil from the flowers and leaves. This oil has the healing elements infused into it that are beneficial to us. We will use that to create the healing skin salve.
Infused Oil Shortcut
If you want your oil to infuse even faster there is a way. I use this to create most of the infused oils I use in my salves and balms. You will need a crock pot with a low setting to use this method.
Place your gathered flowers in a glass jar and cover them with your chosen carrier oil. Instead of placing the jar in a cupboard away from sunlight for 6-8 weeks, you can use the heat from the crock pot to accelerate the process.
Place a small towel on the bottom of the crock pot and place your jars on the towel. The towel keeps your jars off the heated surface and prevents the oil from getting too hot. Fill the crock pot with water to at least half-way up the jars. Place a thermometer in the water to help you monitor the heat. Turn the crock pot to low heat and check to make sure the temperature stays between 120-140 degrees F. Refill the water as necessary. I usually leave mine for 48-72 hours to assure the healing constituents in the flowers have been infused into the oil.
Once the oil has infused, whichever method used, strain the oil through a fine mesh or a few layers of cheesecloth. Be sure and press or squeeze out all the remaining oil. You can then place the plant matter on your compost pile to help with feeding the soil in your garden. Now we are ready to create and bottle our salve.
Creating St. John's Wort Skin Salve
To create the salve, you will need beeswax at a minimum. I also like to add Shea butter and Vitamin E oil to my finished salve, since both are also great for your skin. They seem to help boost the healing properties in my opinion, but they are not absolutely necessary.
I am going to go through the process using all the above ingredients. If you choose not to use them, simply skip the parts where they are used.
Set your oil aside and using a double boiler place 2-4 tbsp. Beeswax in the double boiler and turn on low heat to melt the wax. 2 tbsp of beeswax will give you a more of a salve-like consistency, while 4 tbsp will give you a consistency closer to a balm. Also, add 1 cup of Shea butter to melt as you melt the beeswax. Stir often until the wax has melted. The Shea butter has a lower melting point, so it will melt first. Once these are melted, slowly pour them into the infused oil, stirring constantly to be sure all the ingredients are well mixed. Let this mixture cool slightly, but before it begins to harden add 5 drops of Vitamin E oil and stir again vigorously.
At this point you may want to add some essential oils. Two that are fantastic for your skin and also make the salve smell amazing are Lavender and Chamomile.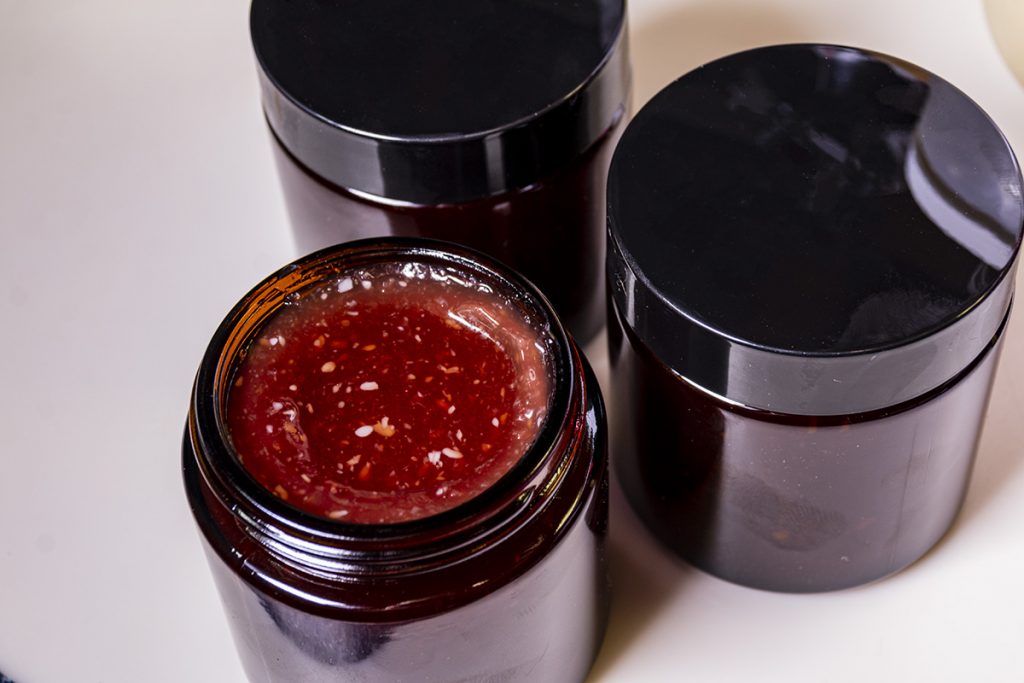 Before the mixture thickens, you will need to pour it into the storage jars of your choice. I use these 4 oz jars from Amazon. Be sure and label them with the contents and the date bottled. This will help you in the future, trust me. Store in a cool, dark place. I keep one in the bathroom and the rest I place in the refrigerator to help preserve them. They should last around a year without refrigeration, so they may last longer when refrigerated. The Vitamin E oil acts as a preservative too.
Precautions
There are numerous precautions related to St. John's Wort and prescription medications. Most of these are related to taking supplements internally. However, as with all herbal remedies you may use at home, be sure and ask your doctor or pharmacist before using this if you are taking ANY prescription medications or are being treated for a medical condition to avoid any drug interactions. Women who are pregnant or nursing should avoid using this.
Also, please be aware that nothing in this, or any other article contained in this website should be considered as medical advice. It is offered for informational purposes only. Please seek professional medical attention if you have a serious medical condition. For further information on the potential side effects of using St. John's Wort, see this article on WebMD.
Other Options
If you are worried about using St. John's Wort topically we have other skin salves which may be an alternative for you. You can read about Plantain Healing Balm or Dandelion Joint and Muscle Pain Balm for other options.
For more information about other wild medicinal plants and essential oils you can visit our list of articles.
Disclaimer: This article should not be construed as medical advice. The health information in this article is not intended to assess, diagnose, prescribe, or promise a cure for any medical condition. Consult with your health care professional before considering any natural supplement or plant remedy for your health and wellness. We assume no liability for the use or misuse of the material presented above. Always consult with a medical professional before changing your diet, or using manufactured or natural medications.