Fall is one of the most beautiful times of the year. It's also a great time for doing fall foliage photography.
The colors are changing, and there are a lot of leaves on the ground to frame your shots with. You can take pictures from a distance, or you can get up close and personal with your subjects to have an opportunity to capture their true beauty.
Here are some good photography tips for fall foliage:
The best time to do fall foliage photography is when there is a nice warm light in your photos – either late morning or early evening. – When you shoot in the lower light of morning or evening, use a tripod so that you can lock in your focus and avoid camera shake from pressing the shutter button on your camera. You can also use a shutter release so that you don't end up with blurry pictures from a slow shutter speed.
Try shooting on overcast days, when the light is diffused through the clouds. The clouds act as a lightbox to diffuse and scatter light, so you get an evenly lit scene. This avoids the harsh shadows and other challenges you face when shooting with the bright light source from the sun. If you try shooting in the middle of the day, you will find you end up with washed-out colors that just don't look as good when you get back home to work on your photos.
Try shooting after a rain, when the leaves will be shiny from the moisture remaining on the leaves. This can also help bring out the colors from the foliage.
Vary your shots. I know this sounds simple, but not every shot should be of the widest view possible. Try shooting closeups of leaves still on the trees, and even leaves that have fallen, using them to frame your shots. Be creative and have fun. Some of your best shots can come from trying different framing and using some creativity.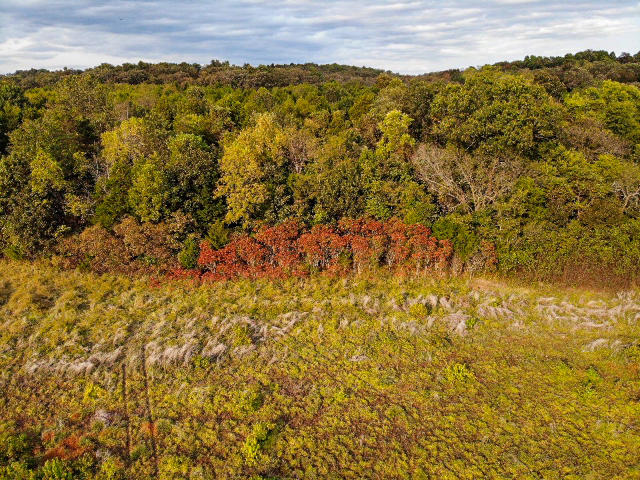 Try a Different Perspective
The shot above was taken with my drone as the Sumac along the field edge was showing its deep red foliage. Using a drone to capture fall foliage is a great way to change your perspective. Seeing the trees from above is something most people never get to see, so it can be a great way to set your photos apart from all the other photos of fall foliage posted on Instagram.
Another perspective you can try is to get down low. Shoot from ground level, aiming up at the trees to get the colors from underneath. Do whatever you can to get away from the same eye-level shot that everyone else is shooting and posting.
Capturing More Vivid Colors
If you want to get more intense colors when shooting fall foliage, you can shoot with an Intensifier Filter. An intensifier filter cuts out light pollution when used in astrophotography, but it also intensifies colors when shooting fall foliage. It has the effect of helping to intensify red and bright yellow leaves in fall foliage photos.
You simply screw the filter to the front of your lens. It helps to decrease haze and create more saturation in your photos of the red and yellow parts of the spectrum. These are the colors that are most prominent in fall foliage. You can purchase the Intensifier Filter here.
If you want to learn more tips and techniques and take your photography journey to the next level, you should check out the Photography Master Class. This video course will definitely help you on your journey to be a better photographer.